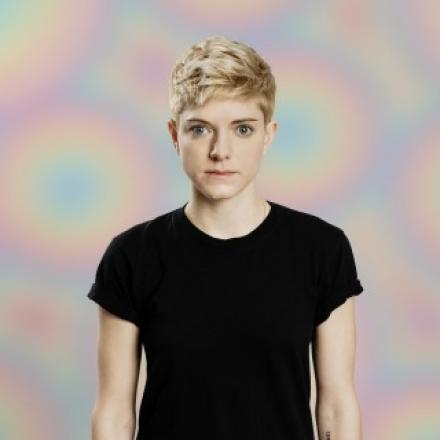 A version of this interview first appeared in the London Evening Standard here at the start of the Edinburgh Fringe Festival 2017. Martin went on to pick up a lastminute.com Edinburgh Comedy Award nomination for her show Dope.

Update 2021. The second season of Feel Good has just come out on Netflix. Read our review here. And Mae Martin is touring in 2021. Details here.
One of the recent developments at the Edinburgh Festival Fringe is that many shows are free, with a voluntary pay-what-you-want collection at the end. Mae Martin performed every night in one of the Scottish capital's coolest free venues, City Cafe, and was brilliant — as the money piled high in her bucket every night confirmed. 
Martin, a friendly, impossibly youthful 30, liked to collect the cash herself. She has had some interesting conversations with fans in the past. Her previous show, Us, at the same venue, was about her relationships. "I had a lot of teens bringing their parents. They were coming out to their parents in front of me — and I'm suddenly mediating. I'm so unqualified to be a family therapist. But people usually end up with a positive feeling, so it was good."
Despite dating both men and women — she currently has a girlfriend — Martin shies away from identifying as bisexual. "I think it's the way of the future that people will label their sexualities less and less. I think we are moving away from distinct categories. I don't want to say I'm one thing in case next year I decide I'm straight. Things are changing so fast, people are experiencing a sense of vertigo."
This year's show promises to be as therapeutic as the last one. "I like to do shows that open a dialogue. After a gig in Soho a woman came up to me and had brought her father. She said: 'Your last show got me thinking I need to be more open, I'm bisexual'. And then her dad said: 'So am I'. Then they asked me to go clubbing with them. I didn't… I guess I'm hoping talking about addiction in this new show will get people thinking about it and relating to it in a different way."
Dope is a painfully candid piece in which she talks about how her life has been punctuated by a succession of addictions: "It's a blend of personal anecdotes, embarrassing teen stories and broader social commentary." She is too modest to add that her brutal honesty is also extremely funny.
Martin's first addiction was reasonably harmless. Growing up in Toronto she saw the cult Disney film Hocus Pocus and could not stop thinking about its star Bette Midler, driving her family mad by repeatedly playing the soundtrack album. She then got hooked on comedy when her parents took her to a stand-up club. She was 11 and her life changed forever.
"I was kept on quite a long leash so I started going to the club four or five times a week," she recalls. She became well-known as an ever-present odd child with a pudding-bowl haircut. "I went so much they let me in for free and gave me a special table. I felt like a weirdo and then I felt accepted. In comedy you are allowed to be weird — and even applauded for it."
When she was 13 she went from fan to performer. "Thank god nobody had smartphones then. I came out with a cigarette and everyone was silent and appalled." This was where her tendency for over-indulgence became more problematic. "I dropped out of school when I was 14 and I was hanging out with comedians in their thirties. I moved out of home and had some real lows. I properly threw myself into drugs as if it was my job."
What was she taking? She jokes that it would be quicker to list what she didn't. "It was a classic slippery slope." The details and various gasp-inducing twists are revealed onstage.
Eventually, when she was 16, she went into a rehab day programme and cleaned up. "I thought it was a brief episode of my life but now that I've been reading about addiction and learning about the brain chemistry behind it I can see those behaviour traits were in me."
The title of the show has various meanings: "Dope refers to weed, and being stupid and also to dopamine." That is the chemical in the brain that makes you feel happy, prompting one to seek out whatever produces it again and again, whether that means endlessly listening to Bette Midler or snorting cocaine.
One question is whether Martin's parents Wendy and James could have done more to protect her? Her father is James Chatto, a former child actor who appeared in Peter Brook's film of Lord of the Flies (her uncle, Daniel Chatto, is married to the Queen's niece, Lady Sarah Armstrong-Jones). 
James is now a food critic and when Mae was growing up had a penchant for walking around the house naked (in Us, Martin recalled how her inquisitive brother Joseph bit her father's penis at the dinner table). Did their laid-back attitude contribute to Martin's wayward youth? "That's something I struggled with in writing this. But definitely I give them full kudos for everything positive in my life. I think I'm pretty well-balanced. I have quite a good armour of self-worth."
Since settling in London in 2010 — she currently lives in Bounds Green — her career has taken off. Her last show has already been turned into a Radio 4 series, Mae Martin's Guide to 21st Century Sexuality, and Dope has been recorded for a series too. 
There is also a book about teenage sexuality in the pipeline and she is filming a sitcom pilot for Channel 4 which she is both excited and nervous about. "I play myself. I wrote it assuming I can act but I don't know if I can. It is based loosely on my life. The central character is struggling with sexuality issues with her family. I don't know how to embellish, it's all about me."
Martin hasn't taken drugs for 10 years but is aware that her addictive behaviour is something she has to accept. "When we think about addiction we just think about drugs. But love is also an addiction. When I broke up with someone two years ago getting over it felt so similar to getting over cocaine. There was the same relapsing, withdrawal symptoms…"
Dope comes to London in September — but you will have to pay for tickets. They are worth every penny. Prepare to be addicted to Mae Martin.
editor's note: this article dates from 2017 and uses the pronounces Mae Martin used in 2017.