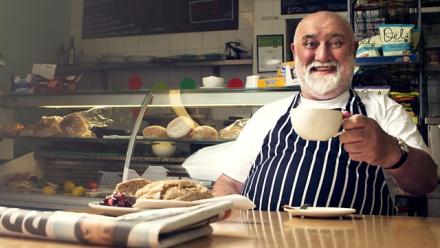 Alexei Sayle, Phil Wang And Rebecca Front have all won awards at the BBC Audio Drama Awards.
Sayle won Best Scripted Comedy (Sketch Show) for Alexei Sayle's Imaginary Sandwich Bar.
Rebecca Front won Best Actress for her performance as Fiona in the Alcoholics Anonymous-inspired Love in Recovery. 
Phil Wang won Best Scripted Comedy (Longform) Category for his comedy Wangsplaining.
Writer Ian Martin, who was known as the 'swearing consultant' on The Thick of It, won the Tinniswood Award for his radio work The Hartlepool Spy.
The awards took place at New Broadcasting House in London and were hosted by Meera Syal. The evening also included a tribute to Nicholas Parsons by BBC Commissioning Editor for Comedy on Radio 4, Sioned Wiliam.
All are BBC Radio programmes. A full list of winners is below.
Best Original Single Drama
Sea Longing by Elizabeth Kuti, producer Karen Rose, director Jo McInnes, Sweet Talk, BBC Radio 3
Best Original Series or Serial
Life Lines by Al Smith, producer Sally Avens, BBC Radio Drama London, BBC Radio 4
Best Adaptation
Black Water: An American Story by Joyce Carol Oates, adapted by Sarah Wooley, producer Gaynor Macfarlane, BBC Scotland, BBC Radio 4
Best Actor
Stephen Dillane, Sea Longing, director Jo McInnes, Sweet Talk, BBC Radio 3
Best Actress
Rebecca Front, Love in Recovery, director Ben Worsfield, King Bert, BBC Radio 4
Best Director
Mary Ward-Lowery, Talk to Me: HP Lovecraft, BBC Bristol, BBC Radio 4
Best Debut Performance
George Kent, A Kestrel for a Knave, director Fiona McAlpine, Goldhawk Essential, BBC Radio 4
Best Use of Sound
The Invisible, sound by Steve Brooke with Sharon Hughes, producer Nadia Molinari, BBC Radio Drama North, BBC Radio 3
Best Scripted Comedy (Longform)
Phil Wang: Wangsplaining by Phil Wang, producer Matt Stronge, BBC Studios, BBC Radio 4
Best Scripted Comedy (Sketch Show)
Alexei Sayle's Imaginary Sandwich Bar by Alexei Sayle, producer Joe Nunnery, BBC Studios, BBC Radio 4
Best Podcast or Online Audio Drama
Passenger List created by John Scott Dryden, Lauren Shippen and Mark Henry Phillips, Goldhawk Productions, Radiotopia
Best European Drama 
Buzz Suppression – Recording Strictly off the Record by Ulrich Bassenge, producers Ulrich Bassenge, Martina Müller-Wallraff and Anina Barandun, WDR (Germany) and SRF (Switzerland)
OUTSTANDING CONTRIBUTION
The Amazing Maya Angelou 
IMISON AWARD
Bathwater, by Vicky Foster. Sue Roberts (producer) for BBC Radio 4 (BBC Radio Drama North)
COMMENDATION: By God's Mercy, by Colette Victor. David Hunter (producer) for BBC World Service (BBC Radio Drama London)
TINNISWOOD AWARD
The Hartlepool Spy, by Ian Martin. Sam Ward (producer) for BBC Radio 4 (BBC Studios)
COMMENDATION: Home Front – A Fragile Peace, by Katie Hims. Jessica Dromgoole (producer) for BBC Radio 4 (BBC Radio Drama London)