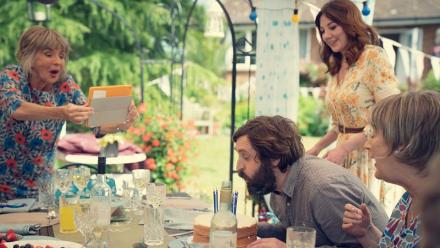 Note - for those that haven't seen the final episode yet this does contain spoilers...
This has been a real gem. It's a shame it is only a trilogy, but in those three episodes we have really got to know the Cockfield clan. Yes, they might be a bunch of Isle of Wight oddballs, but they are – mostly – a bunch of very sympathetic, engaging Isle of Wight oddballs.
It's the day of Simon's fortieth birthday party so it's up with the gazebo, out with the egg mayo, olives covered in cling film and quiche and on with the festivities. Of course there had to be a few flies in the ointment and the first fly is Simon's dad's new girlfriend Melissa, played by Sarah Parish.
Melissa the kind of needy, self-centred borderline psychopath – those shades are a big giveaway – that would normally be played by Julia Davis. No sooner has she sat down at the table than she asks for the egg mayo to be moved away from her...
We also meet Lyn, a wine-supping family friend who looks and dresses slightly like Sue (Sue Johnston), prompting Simon's girlfriend Donna (Diane Morgan) to mistake them briefly and cause a mini-cause celebre. It may be the most exciting thing that has ever happened on the Isle of Wight since Alan Titchmarsh bought a house there.
There is a climax of sorts and I won't spoil it for anyone who hasn't watched this final episode yet. The action might be set during a meal like the Fleabag dinner party episode, but that's where the similarity ends, although they are both brilliant in their own ways. Instead it is totally in keeping with the gentle nature of the rest of the series. No grand guignol showdown kicking off, just a few gently raised voices for a short while.
The Cockfields has been a great little series. More comedy drama than sitcom. The writing, by Joe Wilkinson, who plays Simon, and David Earl, is consistently comical, in the spirit of both Alan Bennett and Victoria Wood. "I thought i'd had a funny grapefruit," says Sue after confessing to toilet troubles before the party. The use of language throughout is very precise. And let's face it, the word "shloer" is always going to raise a laugh.
Oh, and a thumbs up too for the director, Steve Bendelack, who clearly knows television comedy inside out, having worked on League of Gentlemen, Friday Night Dinner and The Royle Family. As a thumbnail portrait of the quirks of Little Britain – another show he has worked on – this is up there with all of them. 
Episode one review here.
Episode two review here.
The Cockfields, Episode Three, Thursday, Noveber 14, Gold, 10pm. Although if you can't wait subscribers can watch it on Sky and Now TV now. The first two episodes are also available on catch-up.