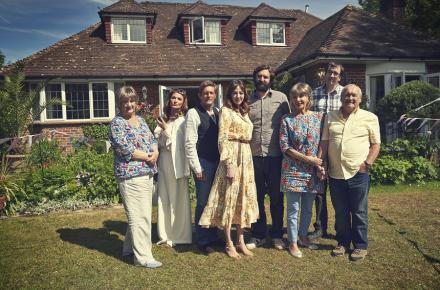 There were no major dramas in the first instalment of this three-part comedy and there are none in the gloriously mundane second part either. Unless you count a minor altercation with a neighbour (Dan Renton Skinner) about a hedge.
Instead Joe Wilkinson and David Earl's beautifully observed family comedy finds the Cockfields still enjoying a weekend on the Isle of Wight to mark the fortieth birthday of Simon (Joe Wilkinson). They visit his aunt in an old people's home and she gives him a horrible metal sculpture. They go for a wander and enjoy the scenery. There is a bit of a disagreement about whether to go to Ventnor or look at Alan Tichmarsh's house but it is soon resolved.
The only reall underlying tension comes when Simon's girlfriend Donna (Diane Morgan) insists on making a meal to help mum Sue (Sue johnston) out. It is pretty obvious that old school set-in-his-ways stepdad Ray (Bobby Ball) is not going to take too kindly to organic sausage rolls. In fact he doesn't even take too kindly to fancy cheese or salad. But in the end they all settle down to watch a recording of an episode of The Chase and peace breaks out. Even if there is a little whiff of tension under the surface when nosey neighbour Andre (Jeff Mirza) insists on standing at the window.
If you remember the gothic comedy horror of Julia Davis' Camping in which everything that could go wrong did go wrong in the English countryside, this feels like its polar opposite. Everything seems sunny and idyllic and everything seems right with the world on the Isle of Wight, even if it does seem populated by oddballs. Ray does get a bit mesmerised by a buxom singer in the old people's home. I still think that something has to give in the final episode but so far it is still very much happy families...
The Cockfields, Final episode is 10pm on Thursday, November 14 at 10pm, Gold