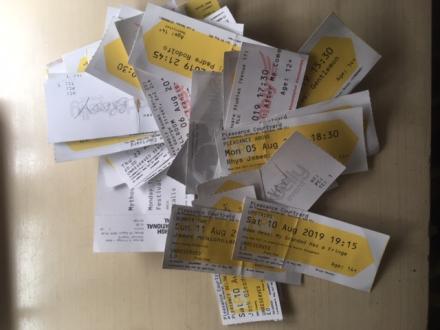 So many shows, so little time. Well actually so many shows, quite a lot of time. But still not long enough to do more than scratch the surface of comedy at the Fringe. I was at the Edinburgh Fringe 2019 for 23 days. And saw 91 shows. Not quite the most I've seen in a Fringe stint, but it may have been more. Some were free gigs with no tickets so I may not have made a note of them. 
Four shows a day sounds like a lot but it's nothing. There were 759 shows eligible for the Dave Edinburgh Comedy Award, which was won by Jordan Brookes. I don't know if Brookes tailored his show depending on what critic was in but it was nice to get a namecheck from the stage because I once described him as Jack Skellington. After being singled out last year for making notes near the front I'd made a point of lurking at the back but I was still spotted. Next time I'll have to review him from outside the venue.
Obviously I was impressed by Brookes, although he was very much a surprise winner. I'd got the feeling from word of mouth that it was between nominees Jessica Fostekew who was strong on feminism, London Hughes who was strong on mainstream comedy and smut and maybe Ivo Graham if the judges wanted to choose a classic stand-up set.
I tried to review as many shows as I could, but between going to gigs, eating and sleeping there was never enough time. You can read my full reviews here on BTJ and on the Evening Standard's website. Claire Smith's excellent reviews are also on BTJ. So what other shows did I enjoy? Here are some capsule reviews of just some of the ones that got away.  
One of my favourite shows also felt like one of the more contentious. Seann Walsh's After This One I'm Going Home was a sometimes painful unpicking of Walsh's career which led to him knocking Brexit off the tabloid front pages when he was snapped kissing his Strictly partner Katya Jones.
It was a real insight into the mindset of a comedian. I remember Walsh being acclaimed in Time Out as a hot new thing a decade go, but, as he explained onstage, he could never quite turn that promise into major success. His style didn't work on panel shows, other vehicles did not really work for him either. So Strictly felt like the last role of the dice. And the rest is tabloid history. 
It's a difficult show partly because of the statement last year from Walsh's ex Rebecca Humphries about his behaviour. However, if you judge this show purely as a performance it's an absolute tour de force. Walsh throws himself around the stage, goes through a range of emotions and does a brilliant Michael McIntyre impression, which, much to his chagrin, got one of the biggest laughs on the night I was in. Whatever the rights and wrongs of what he did offstage this was the only show I saw in Edinburgh in 2019 that got a standing ovation.
Round-up continues here.