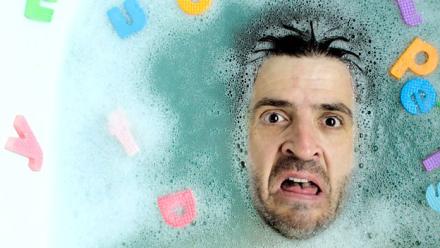 Madcap comedian Spencer Jones returns to the screen as his alter ego Herbert Clunkerdunk in a series of The Mind Of Herbert Clunkerdunk, following the success of the Bafta-nominated pilot for BBC Two last year. Take a look inside the brilliant mind of Herbert Clunkerdunk as he attempts to navigate his way through everyday life only to be constantly interrupted by his own imagination.
The Mind Of Herbert Clunkerdunk, co-starring Lucy Pearman, is a Tiger Aspect (part of EndemolShine UK) production written and created by Spencer Jones. It was commissioned for BBC Two by Shane Allen, Controller of BBC Comedy Commissioning. The Commissioning Editor for the BBC is Kate Daughton.
The first two episodes air on BBC2 from 10pm on Sunday, August 4.
Read an interview with co-star Lucy Pearman here.
Introduce us to your alter-ego, Herbert Clunkerdunk. A part of you must relate to him? 
I have to, don't I? Herbert started off as a really strange, Cockney clown. Often people used to say to me before I went on stage, do you want to be introduced as Herbert or Spencer? It used to always be Herbert, and then I wasn't sure but now I get introduced as Spencer. Herbert is a little bit of a mask, an alter-ego of mine to help push stuff and be silly. Spencer wouldn't wear tights but Herbert has to wear tights. He's like the best, funniest version of me; the one that's always fun to be around and really keen to make people laugh. That's his main raison d'être. Why did you want to write for television? I love telly, I genuinely love it! Also I've got a mortgage and kids so why not? It would be crazy not to give it a go and the BBC has always been in my life so to have a go at doing comedy for the BBC is like a dream come true. Writing for television is  different to writing for stage but it's a good medium. I couldn't bear being an old man and having never written for television.
What is the main theme of the series?
The series is about the world of Herbert Clunkerdunk. It's about the things he has to do as a performer. In my world and in my job, I have to do all the bits and pieces to pay the bills; writing songs, auditioning. So the series is about those little bits of Herbert's life; his missus, his kids, and the people that live on his street and of course his imagination. 
How was working with Lucy Pearman? Were there lots of laughs during filming?
I love working with Lucy. She is one of my favourite people and one of my favourite performers. She's a really good actor as well. There's always a little bit of a sparkle in the eye whenever I'm talking with her. A laugh's never far away. She always says 'well done' when I'm doing okay but will also take the mickey out of me too, it just works. We were so tight for time while we were filming that I had to dig deep and fight that little urge to pull faces when she was doing her lines. Even though we have a right laugh, I wanted to get as many takes in of her as I could. Your children also star in the show, how was it filming with them? Did they enjoy themselves? They are so funny at home. They come up with some great stuff so when I wanted to put kids in the show, not necessarily my own, we started to think about different ways to ensure that we were going to get what we needed on the day. In your head, you kind of think 'I know these kids are funny' and I'm quite a tough dad, so I wouldn't say they were funny if they weren't but they acted really well. Like better than me, annoyingly! They did enjoy themselves. I think the one thing they didn't like was the waiting around but they were decent, they were raring to go. They wanted to do it and now, my son is after his pay check. He's told me, aged six, he wants a quad bike with his money.
What do you think viewers will make of the series?
Well I watched an edit of it the other day and turned to the people in the room and I said, 'oh I'm weird aren't I?' So at age 43, I've now realised I'm definitely really weird. It's a strange thing, but the show is relatable. It's about a family, it has songs in it. I've put as many songs in it as I can. There are puppets, really weird puppets and my agent is in it, as a puppet. I depicted my amazing agent, who I really do get along with, as an absolute terror. When I was creating this, I thought about it like, throwing a hedgehog at a dartboard, so I've tried to do that. I've tried to throw as many things into it as I can, make it as relatable as I can and as funny as I can. It's definitely weird and hopefully everyone thinks it's funny! 
Describe the physical aspect of the show and the different kinds of props you used on set.
So props wise… I bought this megaphone. I had this megaphone hanging around for a while and I wanted to create this sassy, amazing song about a megaphone who is really proud of being a megaphone and didn't want to be called a mobile phone or a Dictaphone. So I took the idea to the puppeteers and they made this powerful megaphone with a huge mouth, big red lips, and white teeth.
We also had some eyes; in fact two hundred sets of eyes with different sets of emotions depending on how you used them. We did a lot of green screen on this too – it was quite a big experiment. I can't say what happens but there are two neighbours in the show and something happens to them physically, which we edited in special effects.  It was kind of weird; like the whole show really. I actually have my real life neighbour in the show, lives two doors down. He just looked the part of a very strong, tasty man called Tubby Taylor. He's the local nutter. He's in it very briefly but he gets a massive laugh!
Anything to add? 
When you watch it definitely have the sound turned up nice and loud! If you've got headphones on then really go for it. There is a lot of music in it that I hope people are going to like. What else? My kids are available for acting work because I need a new kitchen floor after this was filmed in my own house. It was just a really good crew to work with – it was a proper brilliant atmosphere. Props to the director Martin Stirling and the producer David Simpson, who really held my hand and saw my vision but who also gave brilliant notes and added to it all.
And of course Dominic Coleman as Jonny Wallop, some of the stuff we made him do was insane. He's my old friend now, I met him on Upstart Crow and he lives around the corner from me. It was those chats while walking home after filming Upstart Crow when I started thinking he could be the perfect Jonny Wallop!
Interview supplied by BBC.