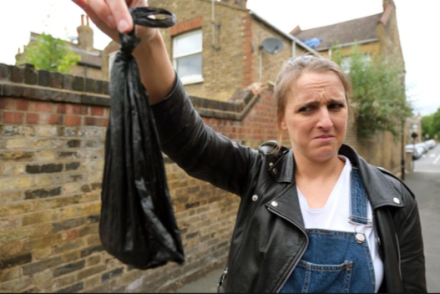 Lucy Pearman plays Herbert's wife Bobby Kindle in new comedy The Mind Of Herbert Clunkerdunk, following the success of the Bafta-nominated pilot for BBC Two last year. Take a look inside the brilliant mind of Herbert Clunkerdunk, played by Spencer Jones, as he attempts to navigate his way through everyday life only to be constantly interrupted by his own imagination.
The Mind Of Herbert Clunkerdunk is a Tiger Aspect (part of EndemolShine UK) production written and created by Spencer Jones. It was commissioned for BBC Two by Shane Allen, Controller of BBC Comedy Commissioning. The Commissioning Editor for the BBC is Kate Daughton.
The first two episodes air on BBC2 from 10pm on Sunday, August 4.
Read an interview with Spencer Jones here.
Tell us about your character. Do you relate to her?
Bobby 's got two magic little children and one extraordinary husband. I think she is really proud of all three of them and is totally devoted to her little gang. I can relate to loving someone and really wanting them to do well and I think the way she has to juggle everything is very relatable.
Describe the relationship between Herbert and Bobby.
Spencer and I tried to portray them as a team. Bobby finds Herbert very funny and really believes in him. They tackle things together and with a sense of humour.
How was working with Spencer Jones again?
An absolute delight. He is a joy to be around. He works extremely hard, makes sure everyone is okay
What did you enjoy most about filming the series?
I got to operate the eyebrows of Herbert and Bobby's football-chanting front door. That was a highlight for me. I was a bit of a fan girl with the puppeteers but working with such a nice team of talented people makes all the difference. Everyone worked really, really hard!
How do you think viewers will react to the series?
This is a very special bit of telly where you can climb inside the mind of Herbert Clunkerdunk, an alter-ego created by my genius mate Spencer Jones. I think they will think 'phew, it's not just me that imagines talking shoes and makes up songs about dog poo'.
Where do you draw your inspiration from?
Everyone I've ever met, animals, Mike Leigh, live comedy, funny dinners I've accidentally made or had, real life stuff. Last week a crow flew into my house three times in one day.
Anything to add?
Can everyone come and see our live shows at Edinburgh Festival Fringe in August? Spencer's show is called 'The Things We Leave Behind' at the Pleasance Courtyard and my show is called 'Baggage' at the Monkey Barrel.
We have got so many tickets to sell and I've panic-bought a massive plastic tooth for absolutely no reason!
Interview supplied by the BBC.