By Bruce Dessau on
27/11/2018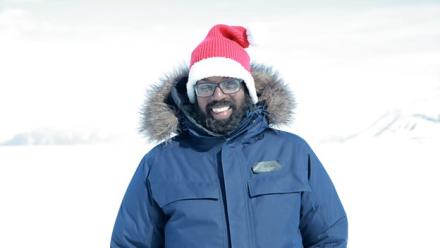 BBC Two has revealed its Christmas comedy shows. They include a Romesh Ranganathan travelogue and and Upstart Crow special. Details below. Transmission details to be confirmed. BBC One highlights
here
.
The "Xmas" Misadventures of Romesh Ranganathan
Comedian and TV presenter Romesh Ranganathan is travelling the furthest he's ever travelled outside of his cosy comfort zone as he heads to one of the coldest and most hostile environments on earth. In this Christmas Special for BBC Two, Romesh gets an insider's guide to the Canadian Arctic and finds out if his preconceptions about this remote part of the world are right, or whether there is more to this area than the prospect of freezing to death or being eaten by a polar bear.
Travelling across frozen wastelands to spend a week in the largest territory of Canada, he will be guided by his host - Inuit athlete, movie star, youth ambassador and renowned hunter Johnny Isaaluk. As well as the beauty and the majesty of the frozen scenery Romesh will also encounter a different side to the Arctic as he gets to grips with the hunters way of life just to survive (as a vegan he's just considered to be an incompetent hunter). He'll also witness the erosion and resurgence of Inuit traditions, and discover why alcohol is often restricted in the communities.
So has Romesh got it wrong about the Arctic? Romesh sets off to find out if there is anything worth travelling there for.
Ken Dodd: How Tickled We Were - details here
.
Goodness Gracious Me - 20 years innit! – details here.
Billy Connolly: Made in Scotland
In the history of comedy there is a line in the sand - and that line is Billy Connolly - put simply, through sheer talent and force of personality, he has changed the face of British comedy forever.
He's been called the Beatles and Jesus of comedy by his peers and an immature 'manure mouth' by a leader of the Scottish Zion Baptist Church. So say what you like about him but you can't deny everyone wants to know him. And that's what Made In Scotland is about, it's Billy as you've never seen him before, intimate, deeply personal and very funny.
Weaved around private interviews with Billy, along with contributions from some of the greatest names in comedy and popular culture offering testimony on Billy his lasting influence, these two one hour specials for the BBC find Billy returning to Scotland to reveal the influences and motivations that turned him from being Billy Connolly the welder into Billy Connolly The Big Yin.
Two Doors Down
Two Doors Down is returning for a new fourth series on BBC Two.
This new six-part series will once again have its core cast, with Arabella Weir as Beth and Alex Norton as Eric – the long-suffering Bairds whose home is often at the heart of the comedy - and Elaine C Smith as Christine, Doon Mackichan as Cathy and Jonathan Watson as her husband Colin, Jamie Quinn as the Bairds' son Ian and Kieran Hodgson returning as his boyfriend Gordon.
Having been introduced in the last episode of series three, Graeme 'Grado' Stevely and Joy McAvoy will also be back as new neighbours Alan and Michelle.
This new series will see Beth and Eric celebrate 30 years of married bliss, while Christine will stress test the NHS with a temporary hospital stay, and the Bairds will receive a visit from Gordon's parents Sandra and Graham, played by Maggie O'Neill (Shameless, EastEnders) and Alex Kirk (Bad Move).
Upstart Crow
A Crow Christmas Carol
It's a bleak midwinter in the Shakespeare household as the family comes to terms with a cruel loss. But when a mysterious stranger (Kenneth Branagh) offers to share with Will (David Mitchell) a tale of redemption he becomes filled anew with love and light and hope.
Now Will has a mission - to save another soul from despair. He and his family and friends get together to save Greene (Mark Heap) from a mean and miserly life, and arrange for three midnight "ghosts" to visit him before Christmas.
Who is the stranger? Can Will and his family and friend's efforts persuade Greene to change his ways and show some generosity to his servant Job Scratchit? (Karl Theobald) And at the end of it all could this tale of Yuletide redemption be another smash Shakespeare hit on the stage, or is its time not yet come? In short, what the Dickens is going on?
Morecambe and Wise
For the first time since their original broadcast in 1968, two episodes of Morecambe & Wise will be played on BBC Two this Christmas after the original colour tapes were lost for fifty years.
The two, black and white episodes were found in a derelict cinema in Sierra Leone and have been transformed back into colour by decoding colour information within the copies. Both 30 minute episodes featured in the first series when the comedy duo returned to the BBC and one includes an appearance from Michael Aspel.
Frankie Boyle's New World Order
Frankie Boyle's 2018 New World Order sees Frankie tackle the year's biggest news stories in his own unique satirical style. The show features Frankie and guests chewing the fat over their stand out moments of the baffling year that has been 2018.
QI Special
It's Happy (half) Hour down at the QI local, so pile in with Sandi Toksvig, Alan Davies, Cariad Lloyd, Josh Widdicombe and (appropriately enough) Noel Fielding for the ultimate festive P-themed pub quiz. Find out how to pull a pint that never runs out, how to play pool with a chicken, and how many wings an angel really has (spoiler alert: it's not two).
Mock the Week Special
Mock the Week's annual Christmas special returns to BBC Two this December, packed with all the usual festive fun, out-takes and memories of the year gone by.
Dara O'Briain is joined-as ever-by Hugh Dennis along with many of the brilliant young comedians who have appeared in the recently completed seventeenth series of the topical panel show. There'll be the traditional Yuletide Scenes We'd Like to See, a Newsreel from Hugh, as well as a chance to see Dara playing with a magical unicorn, a Polaroid camera and googly eyes and what says Christmas more than that?
Other performers featuring include (amongst others): Ed Gamble, James Acaster, Tiff Stevenson, Ed Byrne, Angela Barnes, Tom Allen, Nish Kumar, Rachel Parris, Milton Jones and Zoe Lyons.
Live at the Apollo
This December the Bafta-nominated Live At The Apollo returns to BBC Two for its fourth annual Christmas special, welcoming some of the biggest and best comedic talent to the stage for some Yuletide frolics.
At the forefront of its genre, the roll call of stand-ups who have performed in front of the famous Live At The Apollo lights plays out like a who's who of comedic royalty, and this series is no different. Each episode sees a national (and sometimes international!) stand-up compering and performing, before introducing two of the best established and up and coming stand-ups to the stage.
In this special festive edition of the award-winning Live at the Apollo, the funny and fabulous Sarah Millican is your host as she introduces the incredibly sharp Ahir Shah, the effervescent Laura Lexx and king of the one-liner Gary Delaney, to the stage.