By Bruce Dessau on
27/11/2018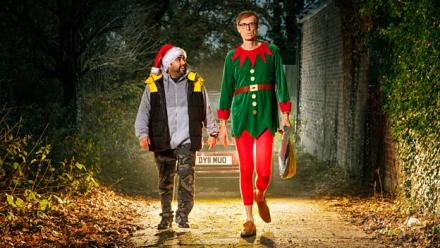 BBC One has revealed their Christmas comedy, which includes a live edition of Not Going Out, a one-off starring Stephen Merchant and Asim Chaudhry and a return for The Young Offenders. Transmission dates to be confirmed. More details below. BBC Two highlights here.
Click & Collect
Stephen Merchant (The Office, Extras, Hello Ladies) and Asim Chaudhry (People Just Do Nothing) star as two mismatched neighbours driving across the country to pick up the one toy that will make a little girl's Christmas dreams come true. But will they get there before the shops shut for the festive season? Can they make it back in time for Christmas? And will they manage to avoid driving each other crazy along the way?
It's Christmas Eve and Andrew Bennett (Merchant) has somehow failed to buy the one present his six-year-old daughter really wants - Sparklehoof the Unicorn Princess. Unfortunately, it also happens to be the must-have toy of the season, and he can't track one down in London for love nor money. Step forward his irritating, over-friendly neighbour Dev D'Cruz (Chaudhry), who reveals he's managed to track down the last one in the whole of the UK. The only problem? It's 300 miles away, up in Carlisle. And it's click and collect on Dev's credit card.
Hold the Sunset
If I Were a Wise Man
It's the last Christmas Edith will have with her family before she and Phil set off for their dream retirement in the Mediterranean. Edith's son Roger enlists her scurrilous one-time flame, Bob 'the burglar', to give Christmas its proper flavour; Edith's sister Joan won't watch the Queen's Speech anywhere else; Queenie locks Sandra and Wendy into a wardrobe; and Phil finds himself talking to a ghost.
Edith is played by Alison Steadman, Phil is played by John Cleese, Roger is played by Jason Watkins, Bob is played by James Cosmo, Joan is played by Sue Johnston, Queenie is played by Anne Reid, Sandra is played by Joanna Scanlan and Wendy is played by Rosie Cavaliero.
Michael McIntyre's Christmas Big Show
Michael McIntyre's annual festive special returns to BBC One this Christmas, stuffed with big stars, big laughs and big surprises!
In this entertainment special recorded at the Theatre Royal, Drury Lane, Michael presents a night packed with Christmas treats and unmissable surprises including a special guest handing over their phone in Send to All, another spectacular Unexpected Star and one unsuspecting member of the public gets a big surprise.
Mrs Brown's Boys
Exotic Mammy
It's the festive season once again in the Brown household, and Father Damian has organised a Christmas decoration contest to support the local football team. Agnes is keen to enter, especially as it might mean getting one over her old nemesis Hilliary Nicholson. But she is soon distracted, when Dermot and Buster give Agnes a "wifi assistant" and she has trouble figuring out what to do with it. Meanwhile, Cathy is up for a promotion at work and Dino and Rory give Buster a full make-over, so he can look the best for his internet date. It's bound to go well, as long as she looks like she does in her photo…
Mammy's Motel
There's a storm blowing in Finglas and it soon claims its first victim when the pipes in Winnie and Sharon's house burst. Thank goodness therefore for Mrs Brown who is on hand to offer a roof over their heads while repairs are carried out. However, it's not long before there's a storm brewing in the Brown household too, when Agnes and Cathy discover living with best friends isn't the picnic they'd imagined. And Agnes has yet more on her plate when she receives the news of the death of Nelly Scullie, a neighbour she never knew - or liked - and is asked by Father Damian to do her eulogy. Plus, there's Bono's thirteenth birthday to host. It might all seem too much for Agnes, until Buster drops a bombshell…
Not Going Out Live Special - details here.
The Young Offenders - Christmas Special - details here.
Would I Lie to You at Christmas?
Rob Brydon is back in the host's chair for a festive edition of the award-winning comedy panel show Would I Lie To You? And as ever, David Mitchell and Lee Mack are the lightning-quick team captains.
Over the course of the show, a stellar cast of celebrity guests reveal amazing stories about themselves. But are they telling the truth, or are they making it all up? David Mitchell is joined by Lily Allen and Noddy Holder while Lee Mack is joined by James Acaster and Sian Gibson.
All Together Now Celebrities
The hit BBC One entertainment show All Together Now is back, with a star-studded celebrity special set to get the nation joining in.
Hosted by comedian Rob Beckett, All Together Now Celebrities will see a host of famous faces singing their hearts out in a bid to win over TV's toughest judging panel, the 100, headed up by Spice Girl, Geri Horner.
Gemma Collins, Chris Kamara, Alison Hammond, Laurie Brett, Ben Foden, Amber Davies, Omid Djalili, Sara Pascoe and Tyger Drew-Honey are the household names taking to the stage for the one-off TV event. Although not necessarily known for their singing ability, each celebrity will be hoping to give a show-stopping performance that gets as many of the 100 up on their feet and singing along. Because, the more of the 100 who stand up and join in, the higher the celebrity scores… and the nearer they come to being crowned winner.
The 100 are a mix of great singers from every corner of the music industry. They've got big voices and big opinions and, as viewers saw in the first series, they're a tough crowd who don't hold back.
Which of the stars will succeed and get the 100 up on their feet and singing along?