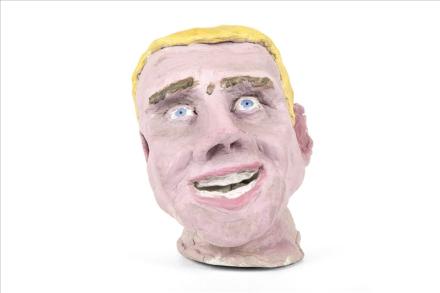 Update: Joe Lycett's sculpture Chris has been accepted by the RA. It is on sale for £12,500,000 (deposit payable today £4,500,000). This is Lycett's valuation of the sculpture. Harry's Hill's wooden piece, WELCOME HOME, COME ON IN AND CLOSE THE DOOR, has also been accepted and is available to buy for £5000. Vic Reeves also has a painting in the exhibition, CLIFF CLOTH, which has already been sold for £2,500. Comedian Katy Wix has also had her painting, A Little Trump, accepted. See it here.
Joe Lycett and Harry Hill are among the aspiring artists who have submitted work to the Royal Academy's Summer Exhibition.
We will see how they got on in a forthcoming BBC documentary about the 250th Summer Exhibition as artist Grayson Perry takes the helm to coordinate the world's longest running and largest open-submission show.
Presented by Kirsty Wark and Jayson Mansaray, the programme comes from the very glamorous Private View and goes behind the scenes of the Academy as it prepares for its annual artistic extravaganza. They meet the cast of people who have come together to make the show unique. Grayson Perry in his role as chief coordinator celebrates the democracy of the exhibition with the theme Art Made Now, and creates a room of fun dedicated to pieces that he and his Summer Exhibition Hanging Committee find amusing.
Kirsty and Jayson delve into the fascinating process of curating and hanging this unique exhibition and follow a handful of talented aspiring artists from across the nation - including celebrities Harry Hill, Joe Lycett and Una Stubbs - who submitted their work in hope of a place in this hallowed institution.
They visit the celebrity artists creating work for this year's show, including David Shrigley, Vic Reeves and Grayson Perry himself.
As part of the 250th anniversary celebrations the Summer Exhibition will, for the first time spill out on to the streets of London's West End. Artist Rose Wylie presents her flag installation which will be taking over Bond Street. And chart-topping singer-songwriter Anne-Marie performs live at the opening night party.
Royal Academy Summer Exhibition 2018, Saturday, June 16, BBC2, 9pm.