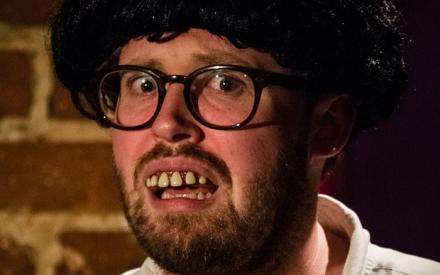 Well this has made my day. Comedian John Kearns prints out and keeps my Rarely Asked Questions series (see answer 7). He either has the mind of a true comedy obsessive or I should be worried. Very worried. Luckily I think it's the former. Kearns is one of the brightest, most original comedy talents to have emerged in recent years, with a style that combines pathos and broad humour in one neat package. He is the only performer to win the Edinburgh Comedy Award Best Newcomer Award and also the Best Show Award. And his latest show, Don't Worry, They're Here, is another delicious little comic portrait of life. It may just be his best show yet. Following an acclaimed run at the Edinburgh Fringe he is performing it at Battersea Arts Centre from May 21 - 26. I can't recommend it highly enough. Buy tickets here.

1. What is the last thing you do before you go onstage (apart from check your flies and/or check your knickers aren't sticking out of your skirt and check for spinach between your teeth)?
Put my teeth in. 
2. What irritates you?
BTWifi-with-Fon. Lord Bragg's breathing throughout In Our Time. The set design of flats/houses in recent British sitcoms. The layout of my flat. The House of Lords being misunderstood. The Archway Road. Phone calls. Fiona Bruce's banter with the crowd on the Antiques Roadshow. 
3. What is the most dangerous thing you have ever done?
I often act like everything will work itself out even when the bank balance and diary suggests otherwise.
4. What is the most stupid thing you have ever done?
Took a cactus on a date to a balloon model making course. Deposit. Lost!
5. What has surprised you the most during your career in comedy?
How hard some comedic heroes still work. The other jobs a lot of comedians do to keep afloat. How silliness needs to be explained and defended. 
Interview continues here.