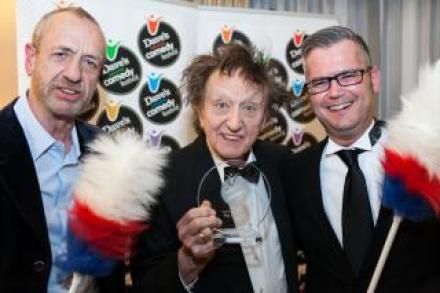 Ken Dodd's funeral has taken place in Liverpool. 
Fans paid their final respects to the comedian on the route fom his home in Knotty Ash to Livepool Cathedral. A floral Diddyman was propped up next to the coffin.
Dodd died at the age of 90 earlier this month.

Ricky Tomlinson, Stephanie Cole, Miriam Margolyes, Jimmy Tarbuck, Stan Boardman and Jimmy Cricket were among those in attendance.
Tarbuck called Dodd "our city's hero" and added "I'm pleased for Ken that there's yet another full house...He was the greatest stage comedian I've ever seen in my life."
Dodd is pictured here in 2014 when he was crowned a Legend of Comedy at an awards ceremony at the Leicester Comedy Festival. He is pictured between comedian Arthur Smith and festival director Geoff Rowe.