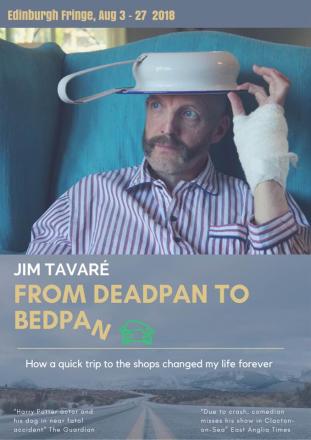 Comedian and Harry Potter star Jim Tavare is returning to the Edinburgh Fringe Festival this August to tell the story of the car accident in California last year which nearly killed him.
Tavare posted the news of his new show, entitled From Deadpan To Bedpan and subtitled "how a quick trip to the shops changed my life forever", on his Facebook page where he wrote this:

"I have been out of action for 10 months but I haven't been doing nothing. I've written my story of the catastrophic car crash that nearly ended it all and my subsequent recovery. I feel compelled to tell the tale of what happened and to thank everyone who supported me through it all. I'm taking the show to Edinburgh this August and previewing it in the UK in July. Co-incidentally this will mark a 20 year anniversary since my last Edinburgh show in 1998."
Read more about Jim Tavare's accident and recovery 
here
 and follow his progress and recovery on BTJ by putting "Jim Tavare" into the search box.
Jim Tavaré: From Deadpan to Bedpan is at the Laughing Horse at the Counting House from Aug 3 - 26. Free with a bucket/bedpan collection at the end. Details here.