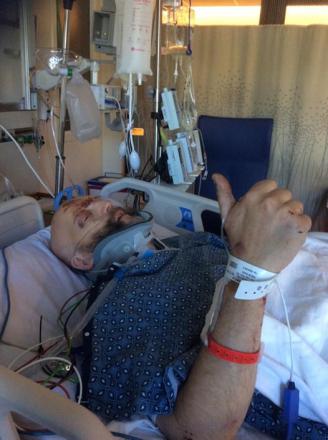 Editor's note: I saw Jim Tavare's wife's Facebook post about his accident shortly after she posted it on Tuesday evening but I didn't want to publish anything until I had been in direct contact with her. Now that the story has been widely reported I feel it is OK to publish the details here. Jim Tavare is much-loved on the UK comedy circuit. Wishing him a full recovery.
Comedian Jim Tavare has been involved in a serious car accident in America.
His wife Laura posted the news on Facebook. The details are as follows: "Jim has asked me to let you all know that he was involved in a serious car accident yesterday, a head on collision. He's currently in ICU intensive care. He has 15 broken ribs, fractures in both breastbones, a punctured lung, multiple breaks in his right leg, and a broken neck. He's had 2 blood transfusions so far and is about to go in for his first surgery. This is for real, not a movie role. Please hold some good thoughts for him as he fights his way out of this."
Tavare was a popular figure on the UK stand-up circuit in the 1980s and 1990s, famously performing in a tuxedo with his double bass. More recently he has also worked as an actor and has been based in America. He has been in numerous TV series and films, including playing Tom, the owner of the Leaky Cauldron in Harry Potter and the Prisoner of Azkaban.
Picture from Jim Tavare's Facebook page.