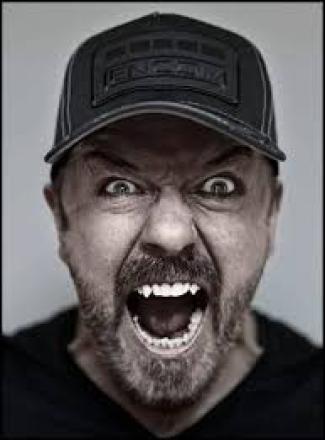 Following the global, exclusive sale of Ricky Gervais' stand-up show Humanity, Netflix has just bought the rights to his next stand-up show, which will also be released as a special on the platform. 
Humanity, which was filmed in London's Eventim Apollo, as part of Gervais' recent record-breaking world tour will be released in the first quarter if 2018.
Gervais said: "I can't wait for Humanity to air so I can start all over again on a brand new show. Stand up is my new favourite passion now, so it's an absolute thrill to tour hundreds of wonderful cities and then be able to have it stream on the greatest platform in the world." 
The recent deal is believed to be exactly the same as it was for Humanity. The second special is as yet, untitled.
Gervais has recently said how much he is enjoying his return to stand-up but in 2018 he will also be working on another show. The working title of the six-part series was Roll On Death*, but he decided to drop it because, he told the London Evening Standard, it "sounded too comical. I don't know whether it's a comedy or more of a six-part story. It's like a series that's adapted from a novel, I just haven't written the novel." Read the full interview 
here

.
Gervais will play the "middle-aged, grumpy" lead role. "It's a guy whose wife has died and he is in the depths of depression and he nearly kills himself. But the reason he doesn't is that the dog is hungry, so that saves him for a while. He thinks about his crappy job, he works for a free newspaper." 
"The only thing that gets him through it is: 'I'm going to commit suicide one day but until then I'm going to do exactly what I want. I'm going to stop being a doormat and say exactly what I f***ing want'. He's not scared of a mugger because they can't kill his wife, he doesn't give a f***, they can't hurt him anymore. This new-found thing liberates him. It's dark but it's funny and he gets embroiled with people he would never mix with in the underworld. It's like he lives two lives."
The cast includes Tony Way, who played Dontos Hollard in Game of Thrones and Tom Basden, who appeared in Life on the Road, 2016's David Brent movie. 
Gervais still has a few more dates of his Humanity World tour left. Tickets for his remaining UK Humanity dates in Bristol on January 10 & 11 are available to buy here.
News: Ricky Gervais Sirius Show To Air As Podcast On iTunes & Acast
Picture: Rich Hardcastle
* Since this story was published Gervais has revealed via Twitter that the working title of his new series is now "After Life".