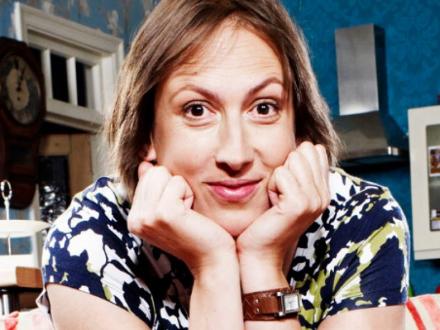 Miranda Hart is to host this year's Royal Variety Show. She is reported to be the firsat woman to host the evening as a solo presenter.
Hart says: "If you don't mind me I am just going to smash a glass ceiling and be the first woman to host the Royal Variety. That felt good! It's thrilling for me because of that, and because I am hugely proud to be part of such an important event in our comedy and variety heritage as the Royal Variety Performance. The young-wannabe-comedian me who watched the show every year, would be just as excited to hear that grown-up me is going to be hosting – only I'll be doing it without the 1970's pudding bowl haircut that made me look like a young male monk!" 
Also appearing are comedians Jason Manford and Tom Allen as well as Kelsey Grammer, who will be performing an exclusive extract from new musical Big Fish. Plus The Killers, Seal, James Blunt, Louis Tomlinson, Beverly Knight, Cassidy Janson and Amber Riley, The Script and Paloma Faith.
The line-up will also include Britain's Got Talent winner, pianist Tokio Myers; the West End casts of 'Annie' and '42nd Street'; Circus Abyssinia; Michael Ball and Alfie Boe and Cirque du Soleil.
The award-winning comedy writer and actress will preside over an "unforgettable evening" of entertainment, in the presence of members from the royal family.
It will take place on November 24 at the London Palladium and will be broadcast on ITV1 at a later date.
Miranda Hart recently hinted that she is thinking about writing more episodes of her hit BBC sitcom Miranda (pictured).
Speaking on BBC1's The One Show she explained that she had heard about actor Tom Ellis, who played her new husband Gary, talking about a potential series looking at their marriage. Hart was quite tickled by the idea. "That got me thinking...there's a thought there to explore the comedy of marriage and how that would work. I'm thinking about it, I don't know."