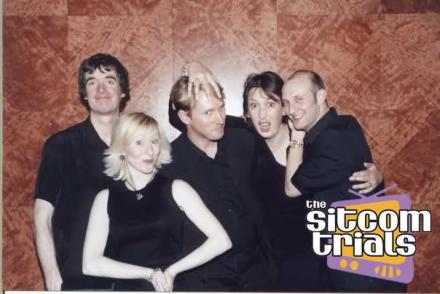 Early film of a live performance of a sitcom pilot starring Miranda Hart has resurfaced on YouTube.
The 17-minute film, entitled You Say Potato and written by Hart, was performed at the Edinburgh Fringe in 2001 by Hart and Charity Trimm, who was her partner in double act The Orange Girls, plus Dan Clegg and Gerard Foster. It was part of the stage series entitled The Sitcom Trials devised by Kev F Sutherland.
According to Sutherland the performance was at a Gilded Balloon venue in Blair Street, which is now the Cabaret Voltaire venue. One of the other Sitcom Trials shows that year, The Client, by Harris & Blakewill, went on to appear in the Sitcom Trials TV series on ITV, but as far as we can establish You Say Potato did not go any further. It is desperately slow for a live performance, although there are certainly strong hints of Hart's hit sitcom in her posh performance style and the fact that she gushes over one of the male characters, makes up stories about herself, has a diminutive blonde sidekick and works in a gift shop selling novelty dog pooh and penis-shaped pasta.

The Sitcom Trials hopes to return to the Edinburgh Fringe in 2015.
Watch You Say Potato here: