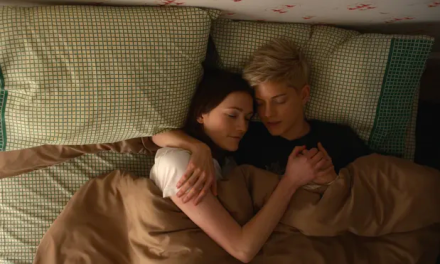 The second series of Feel Good, Mae Martin and Joe Hampson's metafictional comedy-drama (dramedy?) leapt back onto Netflix on Friday. Those with willpower, or busy lives, might manage eke out the episodes. But it'll take a lot to do so. A truly compelling storyline, that takes us even further into our protagonist's past than the first series, is matched by inventive camerawork and fast-paced, realistic writing.
This series breaks new ground on lots of the parts of life it overturned in the first: relationships, gender identity, addiction. There is more space and emotional depth, thanks to the intimacy/familiarity with characters that carries over from series one. We're pulled further into each of their stories in ways that make you want to shake the screen when you see them start to unravel.
Anxieties around the environment and education seems to occupy George (Charlotte Ritchie) now that her character is entitled to more breathing room in series two. Same goes for flatmate Phil (Phil Burgers), an aloof character in the first series who has really grown into his place in Mae and George's on-off relationship carried through from the first series.
Much to everyone's delight, Lisa Kudrow and Adrian Lukis return as Mae's wearied but sincerely loving parents. We get to see a lot more of them, as this series takes us from Toronto, to London, and back, and with the parents come some of the most tenderly funny scenes.  
The skewering of contemporary life and millennial culture is never cheap. As we see more into George's life and work, we meet a new set of eccentric characters that make up the teaching staff at her school. Among them is Elliot (Jordan Peters), a character whose emotional literacy appears be the envy of other supposedly stunted characters, but might not be as transparent as he appears.
New avenues open up in Mae's professional life too, with the viral clip of their set from the first series gaining the attention of a dominating agent, but as ever this only seems to pose further challenges to Mae's sense of self and attempt to keep in control both life and career. 
One thing viewers might have benefited from is a brief recap of the first series, if only because the show quite rightly spares no stragglers, whizzing through its plot in a sense that emulates Mae's lurching and addictive personality. This might be one of its most compelling aspects: the characterisation of Mae's trauma. Both in their articulation of their state of mind according to kitchenware, and in the visual motifs that bring us right into the fold of Mae's unease are so acute. The first series of Feel Good set out so much of what we understand about Mae's frantic character, questioning sense of self, and approach to craft that it is remarkable to find so much more to the story in these six episodes.
Perhaps there's a question over how much the backstage politics of comedy clubs and satirising on set characters from a cheap panel show appeal to the wide audience Martin's show might expect, and thoroughly deserves, on Netflix. Sometimes the differences between the (notably) all men comedians Mae works with and befriends – sure to be a commentary in itself – becomes difficult to follow. But these are merely questions, and shouldn't get in the way of what is a truly special television series; at its heart is a love story, wrapped in layers of complexity woven out of personal history and pain, tempered with genuine humour.
Feel Good is streaming on netflix.com now.
Picture: Netflix