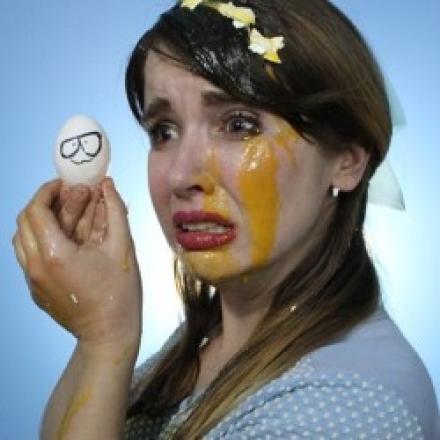 I had a heated debate with a colleague earlier this week about Natalie Palamides' lastminute.com Edinburgh Comedy Award Best Newcomer-nominated show Laid. Is it a show about pro-choice? Is it a sex education show to say use contraception? Or is it just an extremely daft show in which a woman repeatedly smashes up eggs and/or cooks them onstage. One thing is certain. It is the only performance I saw in Edinburgh this year that had to be performed on plastic sheeting to stop the mess oozing into the next show.
Palamides has bags of charm from the very start, when she appears as a little egg herself. The story gradually unfolds as one-by-one her eggs hatch and she has a dilemma, does she nurture them or eat them? If she eats them she dons a mournful hat and funereal music plays. Each time another egg hatches the situation changes but the cycle repeats itself.
It is certainly not stand-up. It is clearly intended to be funny but would sit easily in the theatre section too, as Palamides switches between adult voice and cute baby egg voice. There is plenty of interaction with the audience too, which maybe makes it closer to immersive Adam Riches-style comedy than theatre. If you sit in the front row you'd better be good at catching and have quick reflexes. 
Laid, directed by Edinburgh Comedy Award winner Dr Brown, certainly touches a nerve. Maybe it's the group-catching that does it or the subject of giving birth, but it is something of a bonding experience and was one of the few shows I saw this year that got a spontaneous standing ovation. Palamides is definitely talented, though I'm not sure how this would go down at the Comedy Store on a Saturday night.
Natalie Palamides: Laid is at the Pleasance Courtyard until Aug 27. Tickets here.
****
Please note that there were no egg puns in this review.