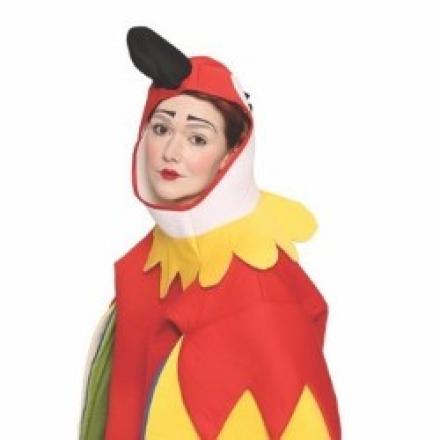 After you have watched Elf Lyons performng her version of Swan Lake in a ludicrously bright bird costume you'll find her unique voice stays with you. 
Lyons, who is a stand up-turned-Gaulier-trained clown has invented her own version of pretend French, which she uses to narrate her story and for absurd of-the-cuff interactions with the audience.
It is a beautiful looking show. The costume, bought from Le Internet, is bright and bold and provides a striking frame for Lyon's twitching, quizzical expressive face.
Lyons is poised, polished and somehow rather elegant as she floats across the stage in her own eccentric retelling of the classic ballet.
She uses talcum powder, plastic sheeting and mop heads, reciting the price of all of them as she does so, to evoke the theatrical magic of a huge and costly production.
Lyons also comments on her own performance, re-introducing the characters of her mum and dad, who wonder what on earth she is doing with her life and why she didn't finish her PhD.
She is a captivating presence, whirling in a cloud of talcum powder, twitching her nose, speaking in her peculiar re-invented form of French, noticing the expressions of the audience.
When she chooses she can be seductive, introducing references to her sexual fluidity (she is polyamorous) and telling us she got stung by four wasps, while having an erotic encounter on Arthur's Seat.
She's delightfully eccentric, brilliantly original and a joy to watch. It's very cheering to see her on the list of nominees for the the 
lastminute.com
 Edinburgh Comedy Awards.
Lyons is doing as she likes, making the kind of shows she wants to make, finding new ways of expressing her comic voice and creating images, language and ideas on stage which are all absolutely her own.
Elf Lyons: Swan is at Underbelly until August 28. Tickets here.
***