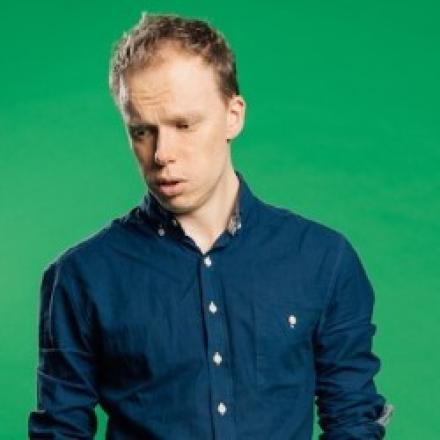 Update 23/8/17: Jordan Brookes has been nominated for a lastminute.com Edinburgh Comedy Award for Best Show. See nominees here.
During Jordan Brookes' gig he suggests that he might change the face of comedy. But as he concedes, it is not clear whether it will be for better or for worse. One thing is for sure, there isn't anybody out there quite like him. 
In his latest show, Body of Work, Brookes bends the stand-up format until it shatters into tiny little pieces. He pulls out every trick in the book, from fake starts to fake finishes, from face-pulling and physical humour to messing around with the "dead dad" trope.
Brookes' show is supposed to be about his late grandmother, although that turns out to be just one of the many strands here. This is not always easy comedy. Some of the things he suggests doing with his gran ensure that this is definitely not family entertainment. 
There are also some further great, original ideas floating about here, such as his concept of "thought marbles" – those bad, often taboo, destructive ideas that roll to the front of your mind and you have to shake them back.
You can tell a performer is doing something special when you can't spot any antecedents. I could say he is the most elastic-faced comedian since Lee Evans but that would hardly do him justice. I could say that he is the darkest comic since Doug Stanhope but that's not right either. I think you are just going to have to see Brookes for yourself. You might not love him but you certainly won't forget him in a hurry.
Jordan Brookes: Body of Work is at Pleasance Courtyard until August 28. Tickets here.
****