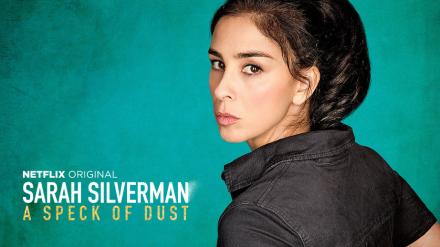 The first thing to say is that Sarah Silverman's Netflix special is longer than her gig at the Hammersmith Apollo in 2008. For live comedy fans in England Silverman is arguably most famous for her major London show that lasted less than an hour and left many fans more bemused than amused.
She has been back in the UK since then though and made amends and she makes further amends with this 70-minute special. While she barely moves from behind the mic-stand her subject matter is certainly wide-ranging, taking in bedwetting, Barbie as a role model, crucifying her pet dog, laser hair removal, abortion, Jews, God and much more, including a fresh take on the costume design in Game of Thrones.
There is topical satirical material too. At the start she refers to the fact that the Los Angeles audience had to go through metal detectors. This was because a Silverman tweet calling for a military coup had prompted death threats. Comedians really should think things through before tweeting them, she explained: "Who do we think we are, Presidents?" There is also a lovely throwaway Brexit reference.
As a performer Silverman is confident and charismatic. She has a nice running gag too, saying "put a pin in that" every time she digresses and wants to make a mental note to come back to a certain point. Every time she says it it seems to become funnier. And the digressions, of course, are always worth hearing.
The tone is refreshingly tart as successive taboos get smashed like so many plates in a Greek restaurant. A section about her inappropriate father giving her a book of tasteless jokes when she was young suggests that the lack of an edit button runs in the Silverman genes. There is also a nice no-holds-barred riff about sex with her boyfriend. As she says he is not American I imagine she is referring to Welsh Frost/Nixon/Damned United actor Michael Sheen. I wonder if they ever discuss Brian Clough in bed. 
Sarah Silverman – A Speck Of Dust, netflix.com