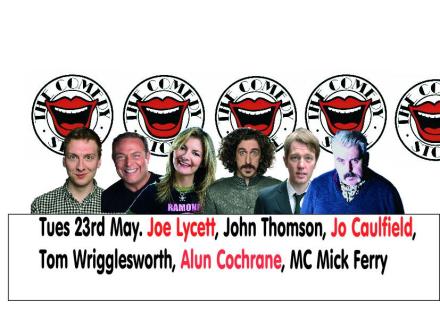 Update 23/5. Due to the events in Manchester last night tonight's benefit below has been postponed. The Comedy Store tweeted: "Tough decision but we are moving tonight's charity show. We will let you know as soon as we have the new date. We love you #manchester." One of the acts, Joe Lycett added: "Tonight's show in Manchester is postponed. I'm in awe at the kindness & compassion of their great city today. In awe, but not surprised."
The Comedy Store in Manchester is to stage a special one-off fundraising gig for Jim Tavare on May 23.
The bill for A Cabaret For Tavare features Joe Lycett, Jo Caulfield, John Thomson, Tom Wrigglesworth, Alun Cochrane and Mick Ferry.
Los Angeles-based actor/comedian Tavare was involved in a serious car accident earlier this year and faces costs that may not be covered by insurance. He is now out of hospital and recovering but due to injuries to his hand he may never be able to play the double bass properly again – the bass was an integral part of his stage act.
If you can't get to the gig there is also a gofundme campaign. Donate here.
Update: There was also a benefit in America at the Laugh Factory on Wednesday night featuring Russell Peters, Bill Burr, Harland Williams, Theo Von, Howie Mandel, Jeff Dye and Colin Parker. It was Tavare's first night out in two months. Afterwards he wrote on Facebook: "It was worth surviving the accident just to see this show."
Read more about Tavare's injury here.
Buy tickets for the show on May 23 here.