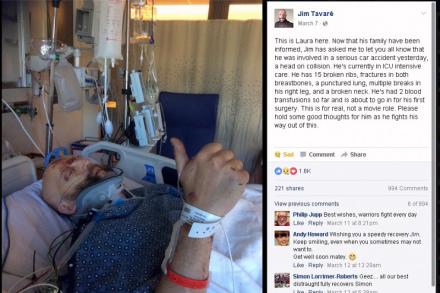 Comedian/actor Jim Tavare's wife Laura has posted an encouraging update on her husband's health following his involvement in a head-on collision earlier this month.  He has been able to get into a wheelchair for the first time and recently went outside the hospital where he was reunited with his dog Mr Kippy, who was with him at the time of the accident. The video below captures the soppy moment.
Tavare was due to tour the UK from May in a package show with Jarred Christmas, Justin Moorhouse and Stewart Francis. It has not been officially confirmed at this stage whether Tavare will have to pull out.
In the meantime a GoFundMe page has been set up to raise money to go towards Tavare's hospital bills. At the moment the fund stands at $12, 593. Donate here.
More on this story here.