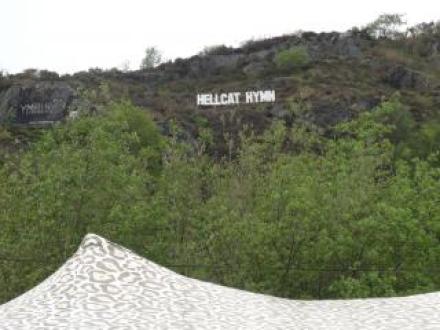 The Manchester International Festival has announced its 2017 programme today. Among the live events the Machynlleth Comedy Festival will be coming to the northern city for the first time. 
In a programme produced by Manchester International Festival in association with Machynlleth Comedy Festival a number of comedians including Sara Pascoe, Mark Watson and tony Law will be playing intimate gigs in the city over the weekend of July 7 - 9.
Tickets have gone on sale today for members here and go on general sale on Friday March 10 at 1pm. If that earlier link it is a bit slow try this one here.
Fri 7 July
Max and Ivan Our Story
Edinburgh Comedy Award nominees bring their immensely inventive and deliciously silly character comedy to Machynlleth's opening night at 53Two.
53Two, Fri 7 July at 7pm
Emma Sidi Telenovela
An extremely welcome return. Two years after she starred in The Crocodile at MIF15, Emma Sidi returns with her Edinburgh sell-out show Telenovela – passionate, obsessive and revengeful character comedy.
International Anthony Burgess Foundation, Fri 7 July at 7pm
Mark Watson
A rare chance to catch one of the country's most joyously original stand-ups in an intimate club setting. Book early…
53Two, Fri 7 July at 9pm
Birthday Girls Sh!t Hot Party Legends
AKA Beattie Edmondson, Rose Johnson and Camille Ucan, Birthday Girls might be the most uproariously funny sketch comedy troupe around today.
International Anthony Burgess Foundation, Fri 7 July at 9pm
Sat 8 July
Brian Gittins Don't Feed the Monkey Man
Described by Ricky Gervais as 'one of the best comedy characters of the decade', David Earl's inglorious failure continues his lonely trudge to the top of the comedy tree.
53Two, Sat 8 July at 5pm
William Andrews Willy
'Half cerebral, half physical, entirely hilarious,' reckons The List – a perfect summary of what you can expect from this strikingly original comic.
International Anthony Burgess Foundation, Sat 8 July at 5pm
Tony Law
Predictably unpredictable and stupendously surreal, there's no one on the comedy circuit quite like the delirious Canadian.
53Two, Sat 8 July at 7pm
Kiri Pritchard-McLean Appropriate Adult
Sharp, smart and extremely funny, the Manchester-based stand-up follows a successful tour of her 2016 Edinburgh hit Hysterical Woman with this special Festival show.
International Anthony Burgess Foundation, Sat 8 July at 7pm
Mark Watson
A second and final chance to catch the fabulous Mark Watson in the cosy confines of 53Two – exclusively at MIF17.
53Two, Sat 8 July at 9pm
Gein's Family Giftshop Volume 3
Piercingly dark and blackly hilarious sketch comedy from the Manchester quartet of Edward Easton, Kath Hughes, James Meehan and Kiri Pritchard-McLean.
International Anthony Burgess Foundation, Sat 8 July at 9pm
Sun 9 July
To be confirmed
Details to be announced shortly.
53Two, Sun 9 July at 5pm
Alun Cochrane AlunCochranish
As heard every week on Frank Skinner's Absolute Radio show, and as seen everywhere from Corrie to Have I Got News for You – a master storyteller with an eye for the absurd.
International Anthony Burgess Foundation, Sun 9 July at 5pm
Sara Pascoe LADSLADSLADS
Hot on the heels of her first book Animal: The Autobiography of a Female Body and her sell-out tour of the same name, the wonderful Sara Pascoe returns to the Festival two years after packing the Pavilion Theatre at MIF15.
53Two, Sun 9 July at 7pm
Brennan Reece Everlong
Best Newcomer nominee at the 2016 Edinburgh Fringe and recent winner of the English Comedian of the Year Award, the Tameside native comes home for the final show of Machynlleth Comes to Manchester.
International Anthony Burgess Foundation, Sun 9 July at 7pm