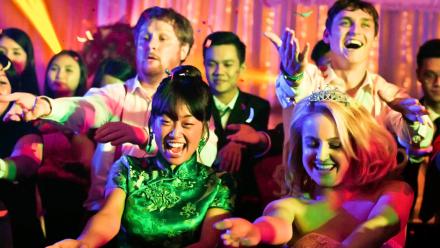 As anyone who watched the spoiler-packed trailer at the end of last week's opening episode set in China will know already Sean (Ade Oyefeso) doesn't become the meat in a stir fry. Instead he just gets forced to sing karaoke against his will by the people who gave him a lift – though if it was me I'd rather end up in a wok, but that's just shy old me. For Sean, the biggest challenge is hooking up with his fellow travellers again via the bullet train. Which involves finding the right bullet train in the first place.  
This second episode feels like a big improvement on the first one. The main characters feel less one dimensional and more fleshed out. It's still Tim Key's Greg that offers up the most fun for me though. This week he is in Shanghai to ink his own personal trade deal, convinced he is about to make a mint with a melodic corkscrew – "bottle opener and music together at last". But this is hapless Greg, so rest assured he won't be hosting Dragon's Den just yet. 
The younger adventurers are having further problems too. Sean finds himself hooking up with Irish newlyweds Kendra (Aisling Bea) and Eugene, who accommodate him so much he ends up doing a runner. Let's just hope we haven't seen the last of them, even if they do remind me of the bickering couple from Father Ted.
The climax of the episode, however, finds our intrepid globetrotters all reunited at a wedding party for relatives of May (Alice Lee), which of course, is a recipe for major breaches of social etiquette. But at least Sean makes it in time and there is more than a whiff of romance in the air for Dylan (Anders Hayward) and Ashley (Brittney Wilson).
Plenty of fast-paced action, some snappy dialogue and breath-taking aerial shots of tea plantations that make you go wow. 
Gap Year, 9pm, E4, Thursdays.
Episode One Review here.