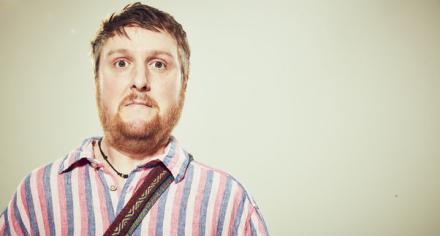 I could pretty much watch anything that Tim Key is in, so I'm glad he is in Gap Year. I'm not sure if I'd have stuck with the opening episode without his moon-faced grin popping up soon after the start as irritating hanger-on Greg.
Well, he's supposed to be irritating, but to me he's the best thing here. Apart from the spectacular aerial views of the Great Wall of China. The rest of the cast feel fairly identikit at the moment. I'm sure their personalities will emerge and at the end of the first episode there is a cheeky cliffhanger, but there's not much else to get your teeth into here.
The initial plot is fairly rudimentary. Dylan (Anders Hayward) and Sean (Ade Oyefeso) have headed out to Asia and start out in China where they soon hook up with a pair of mismatched American meanderers Ashley (Brittney Wilson) and May (Alice Lee). There is a complication, however, when someone from Dylan's past very quickly pitches up too.
Having done a bit of travelling myself – albeit in the pre-iPhone era when mum was not a text away – this does feel fairly authentic. I've probably been both drippy Dylan and annoying Greg in my time. And things do look promising from a comedic point of view when some other familiar faces – Aisling Bea and Jamie Demetriou – arrive onscreen. I expect we will see more of Bea and I hope we see more of Demetriou's Norm - known as "Social Norm" because he is so nauseatingly friendly. He makes Key's cricket commentary-loving Greg seem like the perfect companion. 
Oh, and American stand-up Janeane Garofalo, who I fell in love with when she was in The Larry Sanders Show, also appears in the very first scene as a seasoned travel writer offering advice. I presume she will reappear at some point too. 
Gap Year is created by Tom Basden, who has had a hand in successful shows such as Fresh Meat and Plebs, so he certainly knows how to write for the age group that makes up the main cast. And other writers over the eight-part series include Key, Jonny Sweet, Tony Roche, Charlie Covell and James 'Rev' Wood.
But despite the frenetic pace of the opening episode Gap Year actually struggles to hook you in until near the end. Certainly worth sticking with just to watch Key mooch around though. And, as I said, the Great Wall views are spectacular. Hopefully the drama will match it in future episodes.
Gap Year, 9pm, E4, Thursdays from February 23.