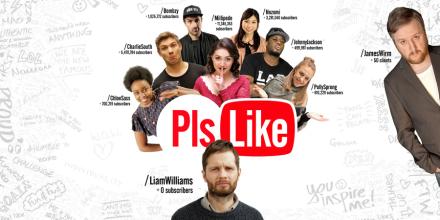 I don't know if BBC Three needs to work on their SEO or if it is because I'm not fluent in YouTube-ing, but I struggled to find the third episode of Pls Like by googling alone (and even when I typed it into the YouTube search bar it was spat out as one of 3,080,000 results). I'm beginning to understand why the show it called what it is; the quota of 'likes' and subscriptions which become the validation or measure through which their return on advertising is gauged. Oh, what a frightening machine it is.
The mechanics behind the blogging-phenomenon are explored in greater detail this week as Liam Williams (presenter) is met with his third challenge: create a viral music video. Talent-manager James Wirm (Tim Key) reaches new sinister-heights this week, but there is some comic relief in the wry observation of his disconnect with the younger generation embodied in the drum-roll gag carried over from episode two. His omnipresence becomes tangible as he looms over vlogger Millipede and Liam's blossoming friendship which threatens to stray Millipede 'off brand'.
A fair commentary on the landscape of mainstream and supposedly alternative music is brought alive through the algorithmically formed Tiny Girls (no relation to Little Mix...) and grime artist Bombzy (Jamie Demetriou). Williams (writer) manages to bring his stand-up persona into the episode here using Liam's love for Bombzy to enter into a stream of consciousness about the important role of grime  at large in soundtracking a counter-cultural movement. The characterisation of vlogger Charlie's complete disinterest is a clever observation on the disconnect between these figures with overwhelming reach, and the opportunity to carry an important message. But Williams sails a little too close to the wind in bringing back this air of elitism through reigniting this side of his character and in the self-consciously clever edit here.
Williams redeems himself through the clever way he has Liam and Millipede unite against the formidable power of James Wirm. Through the musical dimension of this strange, strange vlogging sphere, William manages to balance his 'on-brand' cynicism with a genuine sense of enquiry and engagement. That Liam continues to oscillate between resistance and engagement as he interacts with such measured imitations of real-life enigmas (for those of who are not their target demographic) is essential to Pls Like's place as an important critique, rather than the rampant tear down it could so easily have been. 
Watch here. Episodes are released on Saturdays.
Review by guest critic Lily Dessau.