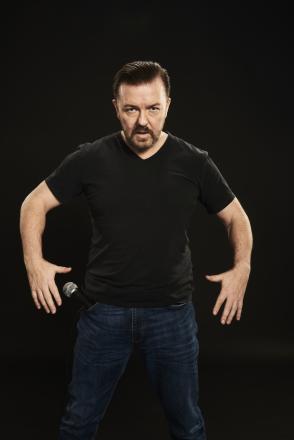 Ricky Gervais is taking action against ticket touts by allocating a limited number of 'Platinum' tickets across his world tour when they go on sale on Friday. This way premium seats are guaranteed, priced at market rates, in an attempt to dissuade people from buying higher priced tickets from touts.
Gervais will donate the extra profits from the UK tickets sold via Ticketmaster Platinum equally to Macmillan Cancer Support and the RSPCA. He explained: "My frustration with touts is twofold: people spending way over the odds on tickets from illegal touts and, the association that ticket touts are connected in some way to my tour without my consent. Platinum tickets feels like a good way to try and stand up against ticket touts making a fast buck by exploiting fans & this way people willing to pay higher prices will at least know it's going to charity instead of some scummy tout.  If this scheme works it will take back some of the millions of pounds scalped every year by touts and divert it to worthy causes. I will split the extra profits generated between Macmillan Cancer Support and the RSPCA."
Tickets for Humanity are available to purchase from Friday. Tour details here.
Platinum tickets will be available at the following shows.
APRIL 2017
MONDAY 3RD
SHEFFIELD, UK
0114 278 9789
TUESDAY 11TH
PORTSMOUTH, UK
0844 847 2362
TUESDAY 25TH
PLYMOUTH, UK
0845 146 1460
MAY 2017
TUESDAY 2ND
GLASGOW, UK
0844 395 4000
TUESDAY 9TH
BRIGHTON, UK
0844 847 1515
SUNDAY 21ST
NEW YORK, USA
+1 212-465-6741
WEDNESDAY 24TH
CHICAGO, USA
+1 312-462-6300
JUNE 2017
MONDAY 5TH
NEWCASTLE, UK
0844 811 2121
THURSDAY 8TH
EDINBURGH, UK
0844 871 3014
TUESDAY 13TH
OXFORD, UK
0844 871 3020
SUNDAY 18TH
SOUTHAMPTON, UK
02380 711811
SATURDAY 24TH
DUBLIN, IRELAND
+353 18198888
WEDNESDAY 28TH
BIRMINGHAM, UK
0121 780 4141
JULY 2017
SATURDAY 1ST
STOCKHOLM, SWEDEN
+46(0)771310000 
FRIDAY 14TH
TORONTO, CANADA
+1 416-872-4255
SEPTEMBER 2017
FRIDAY 8TH
AMSTERDAM, NETHERLANDS
+31 (0)900 687 4242
FRIDAY 29TH
COPENHAGEN, DENMARK
0045 32 460 460
OCTOBER 2017
WEDNESDAY 4TH
LONDON, UK
0844 249 4300
THURSDAY 5TH
LONDON, UK
0844 249 4300
FRIDAY 6TH
LONDON, UK
0844 249 4300
SATURDAY 7TH
LONDON, UK
0844 249 4300
SATURDAY 28TH
LOS ANGELES, USA
+1 323-308-6300