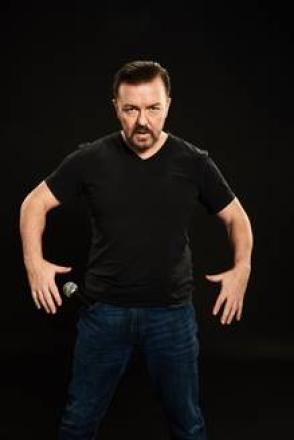 Ricky Gervais has announced the first American, Canadian and European dates for Humanity, his first worldwide stand-up tour in seven years. 
2017 marks the comedian's return to stand-up on an international stage, with shows in New York, LA and Chicago, as well as new dates announced in Europe, playing Reykjavik, Dublin, Stockholm, Amsterdam and Copenhagen this year. 
Gervais's Humanity tour also marks the comic's first ever stand-up tour date in Canada, with Gervais visiting Toronto's Massey Hall on Friday 14th July. The world tour runs from February 21 - October 28.
After selling out his first few UK shows instantly, he has added the second leg of the UK tour with fourteen new dates, including four nights at London's Hammersmith Eventim Apollo from October 4 - 7.
Ricky Gervais said: "Thousands of people paying hard earned cash to come and see you live is such a privilege. You'd better have something different, interesting and funny to say. Humanity is my angriest, most honest and I think my best tour yet. It's probably my most personal too. I feel I may as well tell you everything before I die. Hope you enjoy it. Or not. There are no refunds. Just like life, I guess." 
He added: "I'm thrilled to be able to take this tour around the world and look forward to performing stand-up to a Canadian audience for the first time. Watch this space for even more dates being added too. I'm coming to your town! (If your town has an arena and a 5-star hotel with a helipad)". 
Gervais has had a busy couple of years with the international theatrical and DVD release, alongside the exclusive partnership with Netflix USA, of feature film David Brent: Life On The Road. 2016 also marked the debut album release of David Brent & Foregone Conclusion - Life On The Road, which became a Top 10 UK hit on the iTunes chart. Special Correspondents, which Gervais wrote, directed and starred in alongside Eric Bana, was launched on Netflix worldwide, and Gervais also hosted the Golden Globes for a fourth time.
This is the award-winning stand-up's fifth tour. His 2007 stand-up show 'Fame' was the fastest selling UK stand-up show in history, with 100,000 tickets for the London dates selling out in just 9 minutes.
Tickets go on sale from 10am on Friday, February 24 here.
Watch Ricky Gervais and George Michael in Extras.
FEBRUARY 2017
TUESDAY 21ST
BRISTOL, UK
0844 887 1500
SOLD OUT
WEDNESDAY 22ND
BRISTOL, UK
0844 887 1500
SOLD OUT
THURSDAY 23RD
BRISTOL, UK
0844 887 1500
SOLD OUT
TUESDAY 28TH
YORK, UK
0844 854 2757
SOLD OUT
MARCH 2017
WEDNESDAY 1ST
YORK, UK
0844 854 2757
SOLD OUT
MONDAY 6TH
CARDIFF, UK
029 2023 4500
SOLD OUT
TUESDAY 7TH
CARDIFF, UK
029 2023 4500
SOLD OUT
MONDAY 13TH
MANCHESTER, UK
08444 777 677
SOLD OUT
TUESDAY 14TH
MANCHESTER, UK
08444 777 677
SOLD OUT
WEDNESDAY 15TH
LIVERPOOL, UK
0844 871 3017
SOLD OUT
WEDNESDAY 22ND
BOURNEMOUTH, UK
0844 576 3000
SOLD OUT
THURSDAY 23RD
BOURNEMOUTH, UK
0844 576 3000
SOLD OUT
TUESDAY 28TH
BELFAST, UK
028 9033 4400
SOLD OUT
WEDNESDAY 29TH
BELFAST, UK
028 9033 4400
SOLD OUT
NEW DATES ADDED:
APRIL 2017
MONDAY 3RD
SHEFFIELD, UK
0114 278 9789
TUESDAY 11TH
PORTSMOUTH, UK
0844 847 2362
THURSDAY 20TH
REYKJAVIK, ICELAND
(+354)528 5000
TUESDAY 25TH
PLYMOUTH, UK
0845 146 1460
MAY 2017
TUESDAY 2ND
GLASGOW, UK
0844 395 4000
TUESDAY 9TH
BRIGHTON, UK
0844 847 1515
SUNDAY 21ST
NEW YORK, USA
+1 212-465-6741
WEDNESDAY 24TH
CHICAGO, USA
+1 312-462-6300
JUNE 2017
MONDAY 5TH
NEWCASTLE, UK
0844 811 2121
THURSDAY 8TH
EDINBURGH, UK
0844 871 3014
TUESDAY 13TH
OXFORD, UK
0844 871 3020
SUNDAY 18TH
SOUTHAMPTON, UK
02380 711811
SATURDAY 24TH
DUBLIN, IRELAND
+353 18198888
WEDNESDAY 28TH
BIRMINGHAM, UK
0121 780 4141
JULY 2017
SATURDAY 1ST
STOCKHOLM, SWEDEN
+46(0)771310000 
FRIDAY 14TH
TORONTO, CANADA
+1 416-872-4255
SEPTEMBER 2017
FRIDAY 8TH
AMSTERDAM, NETHERLANDS
+31 (0)900 687 4242
FRIDAY 29TH
COPENHAGEN, DENMARK
0045 32 460 460
OCTOBER 2017
WEDNESDAY 4TH
LONDON, UK
0844 249 4300
THURSDAY 5TH
LONDON, UK
0844 249 4300
FRIDAY 6TH
LONDON, UK
0844 249 4300
SATURDAY 7TH
LONDON, UK
0844 249 4300
SATURDAY 28TH
LOS ANGELES, USA
+1 323-308-6300