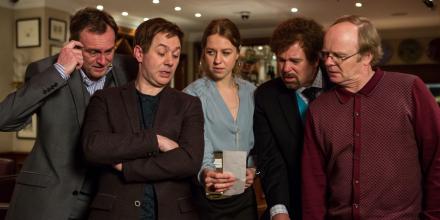 It's that time again. When critics try to wrestle with writing about the brilliant Inside No 9 without giving away any spoilers. And times are even harder now. In the past one could give reveals away after the broadcast as it would be hard to see the programme unless it was repeated. Now that a viewing is always only a click away even reviews should keep their lips sealed.
So we come to the first episode of the third series (well, second actually, as The Devil of Christmas back in December was technically the first). And no, The Bill is not Reece Shearsmith and Steve Pemberton reviving the old plodding ITV police soap warhorse. It is their distinctly warped take on the timeless problem of how to split the payment in a restaurant without souring a lovely evening.
The four chums – Kevin (Jason Watkins), Craig (Philip Glenister), Malcolm (Pemberton) and Archie (Shearsmith) – are having a post-badminton wind-down when it comes to settling up. When I've been out with friends the problem is usually people who don't want to pay. In this upside-down universe the argument is caused because everybody wants to pay. Even pernickety Kevin, though I think I spotted a moth fly out of his purse when he got his pennies out to pay his share.
There is soon much snatching of the bill and flashing of credit cards as the three locals bicker with rich Londoner Craig. Waitress Anya (Ellie White) is caught in the middle. She doesn't mind who pays as long as she gets the money and is able to shut up shop for the night. The cast is uniformly excellent as the tension ratchets up, so it is hard to pick anyone out for special praise - though maybe the designer of Pemberton's frizzy wig deserves an award for Most Imaginative Coiffure.
In some ways, maybe because of the mundane contemporary setting, this feels like quite a low-key opener for the series proper. But despite the ordinary surroundings The Bill pings off in all sorts of extraordinary directions when you least expect it. But of course I'm not going to say which directions here. You'll just have to watch.
Inside No 9, Tuesdays, 10pm, BBC2. The Bill is on iPlayer here.