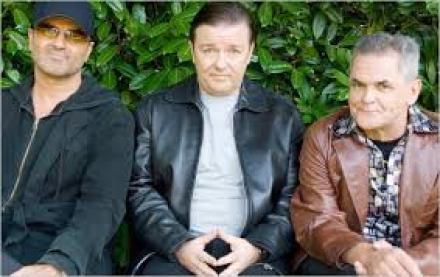 Lest we forget, George Michael had an excellent sense of humour. After his arrest in an LA toilet he shot the video for Outside in which a toilet turned into a glitzy disco. But the comedy appearance that springs most immediately to mind was in Extras when he brilliantly sent himself up as a dope-smoking kebab eating cruiser on Hampstead Heath. On hearing the news of George's death Ricky Gervais simply tweeted "Unbelievable.  RIP George Michael." and Stephen Merchant tweeted "RIP George Michael. So good-humoured and self-deprecating when he joined us in Extras. 2016 just won't give us a break."
Watch George Michael with Ricky Gervais and Gerard Kelly in Extras here.
George Michael also appeared in a Little Britain sketch in 2009. Watch it below.

He also appeared with James Corden in a Comic Relief sketch in 2011. Watch them below.