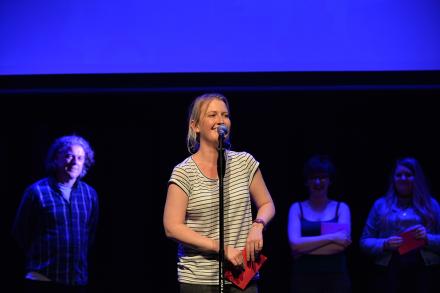 The first act after the break was Danielle Walker, who qualified for the UK semi-finals by winning Australia's Raw competition. It was easy to see why Walker won down under. While some of her material was pretty pedestrian - making jokes about how her young appearance attracted the wrong kind of men - there was something appealingly warped about her. Every now and then she would underline a gag with a manic screech. This might irritate some audiences but it certainly made Walker stand out and she took 2nd runner-up spot.
There certainly seemed to be a lot more energy on the stage in the second half. Londoner Sophie Henderson flew on and raced through her opening routine about living in Dalston surrounded by young people - she is 31, which is positively geriatric in East London these days. Henderson definitely had the chops and the engaging personality required to be a very good comedian, she just needed punchier punchlines than talking about daytime TV. Her best riff was recalling what people who work in offices talk about on a Monday morning. Apart from being funny it reminded my why I don't like working in an office.
Jamie M sported a terrible patchwork jumper, which nearly put me off him, but his stand-up style mostly won me back. He was a distinctly quirky act, the kind you might see promoted by Invisible Dot. His best moment was asking a member of the audience what they do but then turning a hack bit of banter on its head. I was less impressed by his tactic of airing the voices in his head commenting on his behaviour - Terry Alderton does this much better, though apparently Jamie M doesn't even known Alderton's act. There was a lot of promise here, it'll be interesting to see how he develops.
And finally in the tough last spot was Kelly Convey, all sparkly shoes and loud EastEnders accent - she pre-emptively described herself as a Dot Cotton soundalike before I'd had a chance to write it dahn, sorry, down. It was another strong style which needed stronger material. Her basic schtick was that she was desperate for a man, so desperate she had worn Tinder out and was getting arthritis managing her apps. She had a good gag mixing old school and new technology about a period tracker app which men should use to predict their partners' moods, but one good joke was not going to win a placing on a memorable night. 
Pages