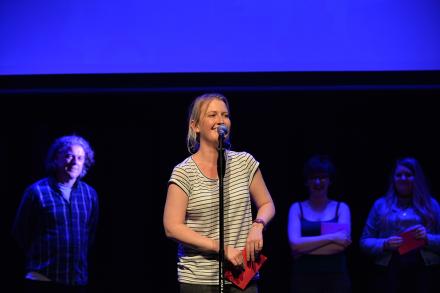 Nine finalists, seven of them women. A record. End of subject. And now to the review. 
First up was Stuart McPherson, a black-clad dour young man from Dundee who started of very promisingly with some clever twists on old comic ideas. After explaining that he was dry, "like eczema" he came out with one of the best "life is like a box of chocolates…" variants I've ever heard. He slightly lost steam with a riff about the nicknames of the experts on The Chase before finishing strongly with a dissection of the term "adrenaline junkies". Not placed but definitely lots of potential. 
Australian Heidi Regan was also pretty low-key but whereas McPherson started strongly Regan started weakly with a "You look like…" variant but gradually built up an impressive head of comedic steam as she explained how she had moved to the UK to live her dreams and become as receptionist. She then turned to a mix of the weird and whimsical, wondering if she would lose her job to be replaced by robots. Or was she a robot herself? Regan (pictured by Steve Ullathorne receiving her prize of £2,500 from Alan Davies) definitely had something distinctive - enough, in fact, to win first prize.
French comedian Arielle Souma was not lacking in personality or energy, coming on with her arm in a sling and breaking the ice with "has anyone else broken their arm today?" It was a shame she did not have more material to back it up. Her basic routine was doing a switcheroo and accusing men of what men accuse women of - being stressed out, etc - and saying that it doesn't matter what men are like, once they are in a relationship women will change them anyway. It pleased the crowd but was not quite sharp enough to please the panel.
Ireland's Ruth Hunter took the energy level right down again coming on and standing totally still onstage. It was one of those risky starts that could have put people off but the inventive deadpan banter kept people listening as she explained that her admin job was to send documentation to the wrong addresses. There was more than a hint of Steven Wright to her slightly warped one-liners - "if you think about it all customers are c-words". This was good stuff delivered in a quirky way and won Hunter the 1st runner-up position. 
The first half finished with a guest appearance from Isy Suttie. Oh sorry, it was Suttie-alike musical comic Harriet Braine, who confused the audience with an introduction explaining that this was a lecture on art through the medium of music. Her style was the classic "change the lyrics to famous songs" but despite being corny she was very good at it, turning Steve Miller's Abracadabra into a tribute to Picasso and - I won't spoil the surprise too much - doing a Kate Bush-y tribute to another painter. If only the bits in between the songs had been as good she might have been placed.
Review continues here.