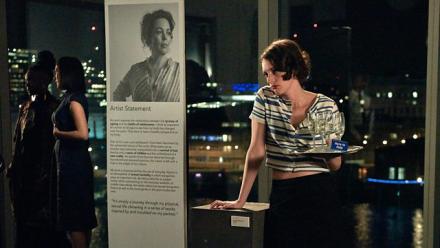 I'm reluctant to review the final episode of Fleabag. I don't want to give anything away. All I should really say is that you should watch it. And if you haven't watched the first five episodes catch up immediately.
But very briefly this episode finds Fleabag (Phoebe Waller-Bridge) hitting the emotional, existential buffers. Despite the usual wry asides this is all smudged make-up and sadness. Her love life is in tatters, her friendships are in ruins and her family life is disintegrating before her tear-stained eyes. 
We do also get a bit more back story about her relationship with Boo, who she ran the cafe with. And in case I haven't mentioned it already Jenny Rainsford is another star performer as Boo, even though she only appears in flashbacks. 
Lots of good stuff here, though not many laughs, as everyone gathers for the "Sexhibition" staged by Fleabag's evil nemesis, played with unflinching perfection by Olivia Colman. Nice crimped hairstyle from sister Claire too. Terrific performances that will make your spine tingle and terrific lines all round. The one that sticks in my mind this week is "he pencil-fucked a hamster". Not necessarily comedy of the year, but certainly programme of the year.
Read a review of episode 1 here.
Read a review of episode 2 here.
Read a review of episode 3 here.
Read a review of episode 4 here.
Read a review of episode 5 here.