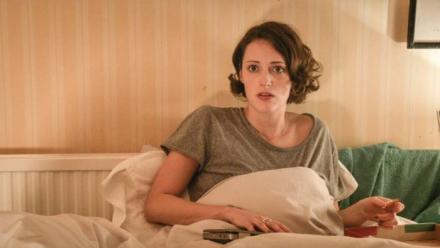 Why do some TV comedies work while others fail to hit the mark? Don't ask me. If I knew I'd have a better job than this. Is it the writing? Is it the casting? Phoebe Waller-Bridge wrote and starred in C4 houseshare comedy Crashing and now BBC Three's Fleabag, and while the first one whiffed a bit the latest one is the real deal.
Maybe the difference is partly that Fleabag is already a proven success, being based on a hit play, and not just an attempt to tap into the flatshare-struggle zeitgeist. But the format has been significantly expanded over six episodes. Waller-Bridge plays the delightfully named Fleabag, a thoroughly modern chaotic twentysomething who seems to spend her time boozing, having casual sex, masturbating, stealing things and arguing with her perfect but possibly anorexic sister. With her posh voice, shortish hair and emphatic nose she reminds me of a young Anna Chancellor. But that's probably just me.
This is definitely not Ab Fab for hipsters or Women Behaving Badly. There is a lot more depth here. We only get a hint of it towards the end of episode one but the porn-addicted, emotionally dysfunctional central character has what you might call something of a history, which may go some way towards explaining her erratic behaviour.
While this is clearly fiction, Waller-Bridge, who also played the part onstage and some might know from her straight role in Broadchurch, certainly seems at home in the role, addressing the camera with a running commentary when not addressing the people around her. It's not the most original of dramatic devices but it does add another comic level to the narrative as we watch her stumble and tumble from one incident to another. Fleabag the character is not particularly likeable but always very watchable, if only to see what scrape she is going to get into next.
Whether this is an accurate portrait of millennials or a specific portrait of someone on the edge of a breakdown remains to be seen as the series pans out. But it is certainly worth sticking with. Look out for comic Jamie Demetriou who is good as a decidedly eccentric potential love interest with Nosferatu's teeth. US comedian Brett Gelman pops up too. Oh, and Olivia Colman plays Fleabag's manipulative, arty stepmother. Things are usually both interesting and good when Olivia Colman is in the cast and this is no exception.
Read a review of episode 2 here.