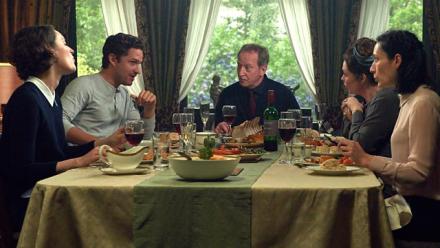 It has taken me a while to get round to writing about the fifth episode of Fleabag. I don't know what the journalistic equivalent of being speechless is but that's how I felt after watching it. It's not quite the same as writer's block, it's just when you see something that is so visceral and powerful on a gut level as this it is hard to find the right way of expressing your response to it.
This week's episode finds our hero - if that's the right word - going with her sister to the annual memorial dinner for their mother who died of breast cancer. As a result the episode starts with Fleabag (Phoebe Waller-Bridge) going for her annual breast check and being typically comically pervy with the doctor while being examined. 
But the meat of the episode comes when she goes to her father's house with sister Claire (Sian Clifford) who is wavering over whether to turn her life upside and take a very tempting job offer in Finland. 
It is Olivia Colman's against-type performance as Fleabag's stepmother, however, that casts the largest shadow over proceedings. Even when she seems to be saying something nice or perfectly harmless it comes out as pure poison. It is no surprise then that the episode ends with a show-stopping confrontation that is both inevitable and yet also totally unexpected when it actually comes.
And obviously it doesn't happen at the dinner table. This family is far too middle class to say something there. It all happens in the hallway and will leave you breathless. I won't say any more. Just watch it. 
Oh, actually I will say something more. Fleabag's dad's house is absolutely gorgeous (which makes the horror that unfolds all the more painful). Does anyone have a number for their decorator?
Episode 5 is available online now here.
Read a review of episode 1 here.
Read a review of episode 2 here.
Read a review of episode 3 here.
Read a review of episode 4 here.