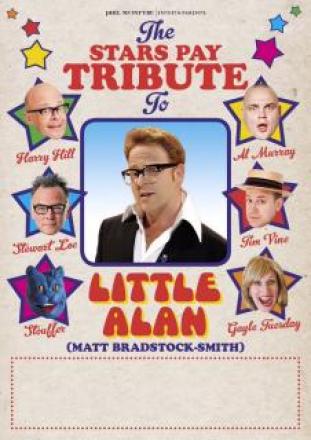 This review first appeared in the Evening Standard here.
So many famous names have passed away recently that it would be easy to overlook Matt Bradstock-Smith, who died aged 50 in January. The diminutive doctor played Harry Hill's son Little Alan in the Nineties before pursuing a career in medicine. Last night's tribute beautifully evoked the childlike surrealism of those days.
Hill might have had more hair back then, but he is as harebrained as ever. Opening the evening, he offered a fan an ice cream that was actually a brush, lobbed bread into the stalls and danced like a post-punk Max Wall. "I borrowed the legs off Jack Whitehall," he said for no apparent reason.
The guests contributed to the lunacy. Spoof glamour model Gayle Tuesday, alias Brenda Gilhooly, recalled her single Big Up Top. Sean Lock* joked that he was so badly educated that he has gas pipes with more certificates. If the first half was good, the second half was unforgettable. Al Murray's barnstorming Pub Landlord was briefly upstaged when he invited an audience member on stage for a duet and she turned out to have an amazing voice. One-liner king Tim Vine picked up on the night's musical motif: "This song is called Subtraction — take it away."
After moving footage of Bradstock-Smith and others as skinny rookie comics, Hill and Murray reunited as singer and drummer in their Pub Band, that two decades ago featured their friend on keyboards. After they mashed up Madonna's Material Girl and the Dad's Army theme, Tim Vine returned, throwing manic karate shapes as Plastic Elvis.
*Stewart Lee had to pull out due to family illness and was replaced by Sean Lock.