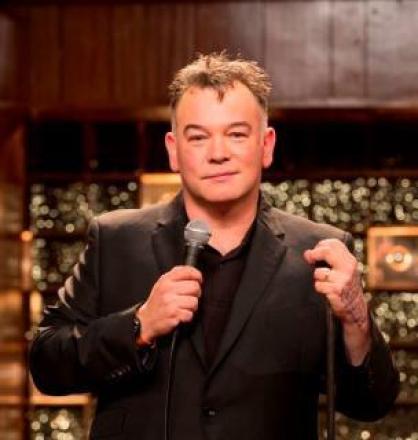 Conspiracy theorists can have a field day with the fact that in some places episode four was billed as The Migrant Crisis. In fact our stand-up sage-cum-holy-fool is here to guide us through his thoughts on death this time. Did it change or did someone get it wrong? More pertinently, however, the show is a return to top form after a spot of water-treading last week.
There is always a risk with Lee that his schtick is going to become over-familiar. A few years ago new comedians were copying his deadpan, repetitive style as if their lives depended on it. In fact he has a sly dig at that kind of comic in the first few minutes here, painting a vivid picture of the attitude of his doting army of fanboys: "I hate Stewart Lee. I've seen him 400 times and I speak exactly like him."
Elsewhere there's a forensic dissection of a gag about Brian Cox and Dara O Briain in which Lee demonstrates that he is so skilled at his craft he can make the factually incorrect version of the joke funnier than the factually correct version. It's all in the rhythm. 
He also has a pertinent pop and Twitter, though he calls it "The Twitter". The only other person I've come across who uses the definite article when talking about social media is Andrew Neil. Maybe he is a Stewart Lee fanboy who has seen him 400 times.
This felt like a strong show, but then that might be because a lot of this is about the craft of comedy, a subject that mildly obsesses me. There's a gently venomous poke at Edinburgh comedians who come up with a theme to attract the attention of critics and award judges - preferably one about illness or the death of a dad. This leads him neatly into his death routine, in which he suggests cheerfully that "we are just meat being shovelled into a grave."
For those that aren't so keen on this self-styled seen-it-all grump deconstructing his art-slash-job there's also a crowdpleasing running gag about rejected Fitness First slogans and Slade re-imagined as mice. All this and some Shakespeare too. Excellent.
Read a review of episode 5 here
Read a review of episode 3 here
Read a review of episode 2 here
Read a review of episode 1 here
Watch the series so far here.