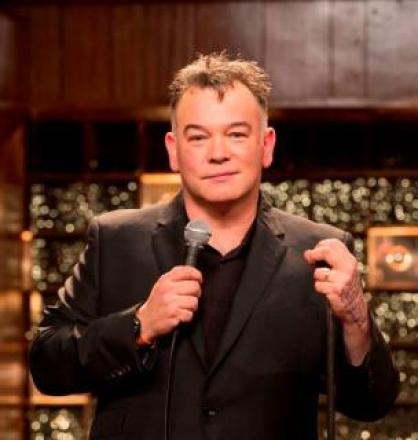 The most interesting point Stewart Lee makes in the third episode of his current series, subtitled 'Patriotism', comes at the start when he talks about the biggest problem the modern satirist faces. The news is in such flux, says Lee, it is hard to get a handle on it for comedy. And if Lee is having that problem, spare a thought for lesser mortals out there trying to monetize their social commentary.
Lee points to UKIP as a prime example of the rapidly changing face of the political landscape. When he started work on this series pre-2015 general election, they posed a credible threat to the established order, but things didn't pan out quite as they hoped.
Likewise Lee doesn't mention Donald Trump's rise in this episode, which was recorded a while ago. Maybe that will be redressed in the future. Though in fairness here he concentrates on the unpredictability of British politics. As he wryly observes, not even the wittiest minds in the land saw the David Cameron/"Dead Pig Sex Face" allegations coming. Not one comedian predicted that turn of events. Shame on them.
The main meat of the episode was a story linking Jeremy Corbyn, Lee's cat and the media's insatiable habit of not letting the facts get in the way of a good bit of clickbait. He neatly pushed a scatalogical image to the absolute limit and then beyond. It was filthy but funny. He had a pithy routine about naming a pet dog after Matthew "Inspector Gadget" Broderick and his description of Downton Abbey as "thinly veiled Conservative propaganda" felt spot on.
As with last week this episode closed on a sketch commenting on what Lee had been talking about. It's more of an old school mash-up here, slightly in the style of Cassetteboy, with visual images cut together. It was initially impressive but outstayed its welcome in a way that Lee's verbal riffs never seem to. A good episode with subversive laughs splattered all over it but not quite up to the high standard Lee has set himself. Then again as he said at the start, satire these days is not easy.  
Read a review of episode 5 here
Read a review of episode 4 here
Read a review of episode 2 here
Read a review of episode 1 here
Watch the series so far here.