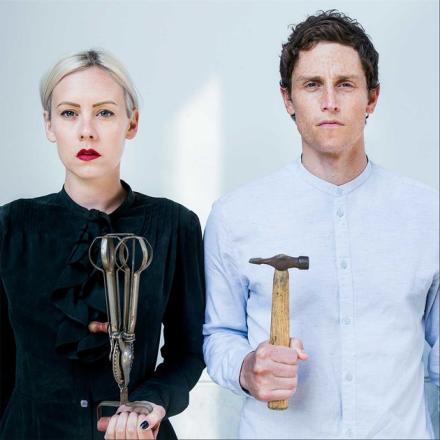 "People have emailed us after the show to say how much they relate to us," she continues. "Women say 'I'm you' and their partner is Tim. The other week a couple came to see us for their tenth wedding anniversary. They really identified with our story. It's the most personal show I've ever done but there is something in it that makes it universal too."
Kimmings is finally achieving the acclaim she deserves. She has been invited to make the official Fringe Central Welcome Address at the Edinburgh Festival on August 7. She is not sure why she was asked. I suggest it is because she straddles so many genres, from comedy to the avant garde to theatre. "Or maybe it's because I'm a loudmouth. Or maybe they just wanted a girl," she chuckles.
This is her biggest year yet in various senses. She is currently five months pregnant. By the time the show opens in London this autumn she will be very close to giving birth. So far this hasn't interfered with her performances. "Though in Australia I was puking before I went onstage then doing the show then I came off and puked again." 
There is a contingency plan if she does not feel up to it or gives birth early: "I hope it doesn't fall out too soon, but I've got my sister on stand-by to play me during the more dancey bits." It is a boy, which makes her even more concerned about male depression. "Talking about it won't cure it, but hopefully by communicating you don't ever find yourself at that last moment where you consider suicide."
She intends to take three months maternity leave so is working frantically until then, currently co-writing a musical about cancer that has been commissioned by groundbreaking theatre company Complicite. "I'm not performing in it, but it's a big show for 2016." There is also a collaboration with young men from council estates on a piece about male stereotyping. 
Kimmings is clearly making up for lost time, having taken a while to find an audience for her distinct approach. By her own admission she partied hard and "pissed my twenties away up the wall." As a teenager in the small town of St Ives near Peterborough she shuttled between being driven and not having any ambition at all.
"After school I worked in a shop but then I saw all my friends getting pregnant and getting council flats and I decided I wanted to get out. I did a drama degree at Brunel University and planned to become a barrister so that I could buy my mum a flat. I'd always had delusions of grandeur. But I became a performance artist instead." 
Her mother has been very supportive despite having to buy her own flat. "After she saw this show she wrote some notes on a piece of paper: 'A fog descending. Being inside a hole that your fingers won't let you climb out of.' She handed it to me and said "these are the things that I wrote down when I last had a really bad bout of depression. They were just like Tim's description of 'my head is made of rope'."
She is also glad to see her daughter engaged to Tim. They hope to marry next year. "Mum has seen me with awful boyfriends so she's thinking thank god I met Tim. He's my lifeline". They might be an odd couple but they seem made for each other. Have her previous boyfriends been artists? "No. Arseholes."  
Fake It 'Til You Make It is at the Traverse Theatre in Edinburgh from August 6 - 30 and at Soho Theatre from September 22 - October 17. Details at bryonyandtim.com.
A version of this article appeared in the Evening Standard.
Pages