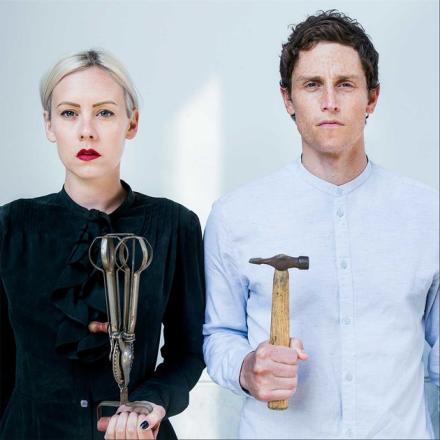 As double acts go this is an unusual one. Bryony Kimmings is a performance artist, comedian and maker of experimental theatre. Her partner onstage in Fake It 'Til You Make It is Tim Grayburn, a high flying account manager at an advertising firm.
Grayburn is also Kimmings' offstage partner and the show is about his battle with clinical depression. During this emotionally charged but very funny evening they sing songs and joke around. He plays the guitar badly but charmingly. They dance as they list the symptoms of depression such as fatigue and insomnia. Most of the time Grayburn wears elaborate headgear because he is too nervous to look the audience in the eye. 
At the Latitude Festival earlier this month Kimmings left the stage in tears while receiving a standing ovation. The crowd was welling up too. "It was tough to do, that one," says the petite 34-year-old when we meet in the Soho Theatre bar. Kimmings is friendly and unpretentious, laughing throughout our chat except when she talks about Grayburn's darkest moments. "Tim's family was in and just before we went onstage he peaked through the curtain and realised it was the biggest venue he had ever performed in."
Her work has always been provocative and brutally honest as well as playful. She devises social experiments that win both theatre and comedy awards. In 2010's Sex Idiot she told the story of how she had tracked down ex-boyfriends after discovering she had chlamydia. In 2011's Seven Day Drunk she spent a week intoxicated to see if it improved her creativity (while the results were inconclusive, the show was hilarious). In 2013 Credible Likeable Superstar Role Model was about the sexualisation of childhood and co-starred her 9-year-old niece. But Fake It 'Til You Make It ramps up her personal approach. 
As she explains while Grayburn is shopping in Oxford Street, she only found out about his illness in 2013, six months into their whirlwind relationship. They were already living together in her tiny flat in Clapton when she found his medication in his rucksack. It was Citalopram. She recognised it because her mother has also had depression and had taken the same pills. It was a huge shock. "He was very good at pretending that everything was fine."
Grayburn, 32, had kept quiet about his condition for a decade. "When he was 22 for a whole year he was having suicidal thoughts and didn't know what it was. Nobody talked about it." Eventually he had a breakdown. He smashed a glass in the sink and cut his hands so badly his mother took him to the doctor who gave him tablets. "But then he didn't tell anyone ever again. He didn't even Google it." Despite having a successful career in advertising he could also be very low. "The end danger is suicide," says Kimmings. Nobody knows the cause, it is simply a chemical inbalance. "A broken brain", as she sings onstage.
The performance homes in on the fact that young men are reluctant to talk about their emotions. Research suggests that half of male depression goes undiagnosed. It is said to be the biggest killer of men under the age of 35. A study by the Men's Health Forum found that 72% of people treated for depression are female, yet 75% of people that take their own lives are male.
Mental illness is one of the last taboos, but things are changing. Ruby Wax has opened up about being bipolar onstage, Stephen Fry has been vocal. Ex-footballer Clark Carlisle talked recently about his struggles. Kimmings seems to have tapped into the zeitgeist: "It has become more pressworthy. I think one of the only good things Nick Clegg did was that he talked about men's mental health."
Interview continues here.