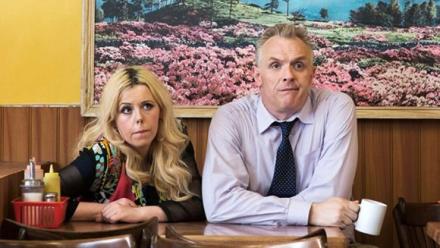 OK, I confess. I wasn't convinced by the first series of Man Down. It had its moments, but given that they were mostly in the violent interplay between Greg Davies and his TV dad Rik Mayall I had a bad feeling about the second series which – for sad but obvious reasons – doesn't feature Mayall. Yet would you believe it, it looks like they've turned it round.
The plot is pretty much the same as before – Davies plays portly middle-aged loser Dan with an over-fussy family and an oddball dysfunctional pair of friends, Brian (Mike Wozniak) and Jo (Roisin Conaty). They are life's eternal failures, just about clinging on to normality by their fingertips. 
In the opening episode of the new series Dan suddenly finds himself with a surprisingly young girlfriend, Brian delves into his family tree and gets a disappointment and Jo, who is basically unemployable, works out an unusual way of getting work experience.  
As it happened I'd been watching an old episode of Seinfeld before I watched this (The Stall, if you must know) and there were distinct similarities in the way Man Down was constructed, so that seemingly disparate threads all worked their way together towards the climax. They even hang out in a cafe like Jerry, George and co. Albeit a far more greasy English one.
The difference here is that if in doubt Man Down goes for the gross-out gag. I'm usually not very partial to that kind of puerile humour but the coup de theatre in a nightclub scene in the second half is so appallingly over the top that it did actually make me laugh more because of its audacity than its wit. The phrase 'narrative arc' springs to mind, but you'll have to watch to see why. 
I was writing the other day about how sitcoms often need more than one run to hit their stride. That is definitely the case here. Man Down did not quite live up to expectations when it started, but this time it has excelled them. And I haven't even mentioned Marek Larwood's brilliantly bizarre cameo as an ageing cantankerous waiter. Oops, I have now.
Mondays from June 1, 10pm, C4.