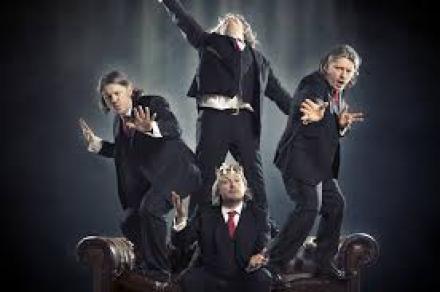 After tackling sex, death, religion and other similarly heavy subjects Richard Herring's latest show has a more frivolous feel to it. Lord of the Dance Settee is a celebration of the daftness of life and how, through the smallest of incidents, we cannot help but be interconnected with each other.
What it does have in common with previous sets is Herring's tendency towards verbosity. Like Stephen Fry, but with a more puerile streak, Herring will never use a short story when a long one can be plucked out of the air. 
And so we get a range of colourful, amusing anecdotes, some perhaps very slightly embellished. Why do sombreros in unusual places always make us laugh? Is the manager in his local chicken shop really called "Dave Manager"? What's John Donne's obsession with words that start with meta? As the sober suited comic points out himself, even if you are not laughing you might learn something.
Straight after the interval there was extended shameless-but-funny sales pitch for various bits of merchandising, which suggests that Herring could always have a sideline running a stall on Petticoat Lane market. I was rather taken by his description here of journalist Liz Jones as a "feral spunk fox" (at least that's what my notes say). One can always rely on Herring to lob in some smut whether it is needed or not.
Gradually though these disparate strands start to come together. It might be a coincidence, but various stories seem to feature small children, some real, some made of wool. And as the show reaches its end it turns out that parenthood may well have been on his mind when he was writing this as he became – spoiler alert for those that don't read his blog or Metro column – a father earlier this year.
Proceedings conclude with a finale that confirms that just because Herring has produced a child doesn't mean that at 47 he isn't still one himself. A very funny and very intelligent show – and it's being filmed for DVD tonight if you want your own pathetic childish giggles to be recorded for posterity.
Tonight, Bloomsbury Theatre, tickets here. Richard Herring is also doing a London run of all of his shows later this year. Details here.