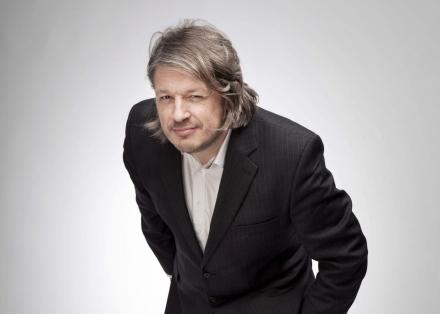 Richard Herring has confirmed the dates for his London run this summer when, instead of doing a new show for a month at the Edinburgh Fringe, he will perform his 11 previous shows plus a new show.  He will be performing on Fridays and Saturdays at the Leicester Square Theatre from August 7 to September 12.
The shows will be Christ on a Bike, Talking Cock, The Twelve Tasks of Hercules Terrace, Someone Likes Yoghurt, ménage a un, Oh Fuck I'm 40, The Headmaster's Son, Hitler Moustache, What is Love, Anyway?, We're All Going To Die! and Lord of the Dance Settee. Click here for exact dates of each performance and for ticket details.
Herring has issued this statement explaining his decision: "As much as I love the Fringe, it has become an over-crowded marketplace. And last year I found myself competing with new acts charging nothing on the Free Fringe and big TV names. I couldn't blame people for parting with cash for comedians they knew well and taking their chances on shows they didn't have to pay for. It made it a lot tougher for all the acts in the middle. But mainly I resented paying £3000 to stay for a month in a flat that might charitably be called "studenty". It struck me that I could make the market less over-crowded and stay for "free" in my own house, if I premiered my new show in London."
"And to add to that a retrospective of my entire solo career is an exciting challenge and a chance to assess where I've come from and where I am going to. The span takes me from post-BBC2 "fame", through some wilderness years, where I was directionless, alone and afraid my career might be over, to meeting and then marrying my wife and this year having my first child. My new show, Happy Now? Will question whether complete contentment is possible or desirable and attempt to debunk the argument that having children removes a comedian's edge. It will be particularly satisfying if you've followed my internal struggles in the previous 11 shows. Though I am not looking forward to welcoming back the Hitler Moustache on to my upper lip, even for 90 minutes."
Herring is currently running a Kickstarter campaign to raise £30,000 to help to pay for the filming of his Leicester Square podcast interviews. He has currently raised £24,264 and has seven days left to go. Donation details here.