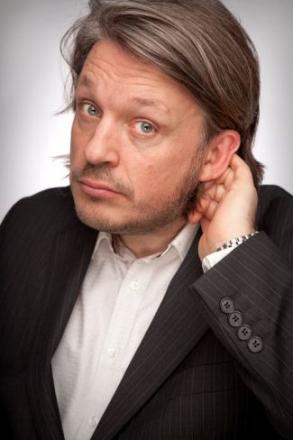 Update 16/5. Richard Herring has hit his target. He has raised £30,153 with 4 days to go. You can still donate, however, so that he can add more extras, etc.
Update 7/5. Richard Herring is over halfway towards his target below. With 13 days to go he needs just over £13,000. He has just announced the first guest of his new series, which will be recorded for audio even if it isn't filmed. It will be Bob Mortimer and will take place on June 1. Further guests are Emma Kennedy, Robin Ince, Mark Watson and Limmy. Tickets here.
Richard Herring has launched a Kickstarter campaign to raise funds to film his next series of Leicester Square Theatre podcasts. He will still be recording them for free audio release but needs to raise £30,000 to pay for the filming.
It costs about £1500 to make each episode and Herring plans to make 18 new episodes. He has opted to fund it this way so that he doesn't have to put advertising in his programmes.
After one day the campaign has already raised over £5000 with 19 more days to go, so looks like being on target.
Guests on previous shows have included Mark Gatiss, Stephen Merchant, Greg Davies, Simon Pegg and, most famously, Stephen Fry, who talked frankly about a previous suicide attempt. The podcasts are highly recommended. Guests have been moire relaxed and open than they tend to be when being interviewed on television chat shows.
If you want to donate click here.
Watch Richard Herring's in-depth interview with Steve Coogan here.