The co-star of this week's Inside No. 9, Tom Riley, recently tweeted that it was "maybe the greatest half hour of TV I've ever been lucky enough to be in". Actors are not unfamiliar with the art of hyperbole, so perhaps we should take that with a wheelbarrow full of salt. On the other hand I think he might just be right.
The Twelve Days Of Christine features Sheridan Smith as the titular Christine who first appears as a saucy, suspender-clad nun, celebrating New Year's Eve by snogging Adam (Riley) after a fancy dress party (unless she is a real nun and habits have been radically updated). We than rattle through their romance in a series of short, snapshot-style scenes. It's the sort of thing advertisers try to do in 30 seconds, but they are all utterly devoid of feeling compared to this.
As per usual with Inside No. 9, too much detail would spoil the fun. One of the skills of actor/writers Reece Shearsmith and Steve Pemberton is the way they plant seeds and gradually leak out details. They do it so expertly here that one really doesn't see what is coming.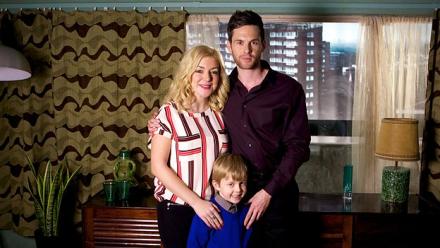 This is an episode that will probably make you jump and shudder more than giggle and guffaw. It will also trigger numerous other emotions. In acting terms Shearsmith and Pemberton take small roles this time round. Their generosity is another thing to applaud. They don't wolf down all the meaty parts they have written, although in fairness neither is quite cut out to play Christine.
Tom Riley is good as handsome, seemingly perfect hubby Adam, but this is Sheridan Smith's half hour. I've seen Smith in so many different things over the years, from straight plays and stage musicals to Gavin & Stacey to, most recently, Cilla Black, and she quite simply seems able to play anything. Which is handy for this part because she has to capture every feeling, from elation to depression and beyond.
I can't speak highly enough of this episode. If you've loved the first series and last week's opener you will love this. Hopefully the casting of the versatile Smith (and Riley) will draw in new fans too. And once drawn in, to use a phrase that Shearsmith and Pemberton devotees should recognise, you'll never leave.
Inside No. 9 – The Twelve Days Of Christine.
Watch a trailer here...