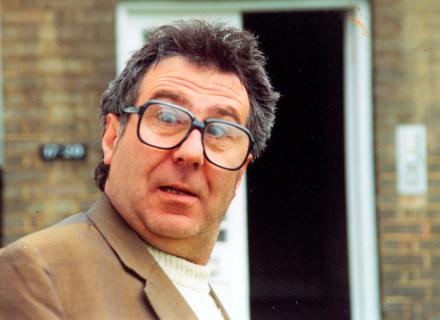 The spirit of Hardee was, as I've said, very much in evidence onstage and never more so than with The Herbert, alias comic Spencer Jones. Context is everything in comedy and, while I'd been pretty lukewarm about him at the New Act of the Year competition last month, he fitted in perfectly here with his stupid white tights, daft props and non-sequiturs. He might have the laugh of Tommy Cooper and the teeth of Crackerjack's Don Maclean, but maybe The Herbert has something after all. How you market it only God – or maybe Malcolm – knows.
Bob Slayer, like Hardee both a promoter and a stand-up, came on without much of an act but for me provided the highlight of the night when he fearlessly decided to open John Robertson's mystery box. Without pausing to check he grabbed a handful of what was inside and rubbed into onto his head. It turned out to be giblets. You could say that everyone found it offally funny.
Naturally it would not have been a Hardee-style night without some uncategorisable acts that split the audience. John Fleming, Hardee's enigmatic biographer, walked on, then off without saying anything but still got some generous applause. Liberty Hodes was a kooky prop comic whose polystyrene props were more interesting than her comedy. The press release had said that "The Widow"  was the former partner of musical comic Kit Hesketh-Harvey, but it actually turned out to be a mad, gap-toothed woman in black whose act involved her intimidating the front row and begging for hugs. Cheekykita, later on in the night, could almost have been the same woman, though she seemed relatively conventional by comparison. Apart from the fact that she had horse's hooves instead of hands.
It was one of those nights where there was a thin line between open spot and professional act. Darren Maskell was billed as an open spot but coming on dancing with a bag on his head and a giant foam hand (more Vic Reeves than Miley Cyrus) he arguably fared better than Joz Norris. It was Norris – sending up Hardee by using polite versions of his classic gags – that prompted the most old school heckles of "Malcolm!" and "Book him!".
Other non-stand-ups added further variety to the evening, as if that was needed. Frilly-knickered dancers the Can't Can't Girls featured Hardee's sister Clare, who had already been seen belting out Life Is A Cabaret in nostalgic Hardee clips shown onscreen after the first interval. 
But of course there was really only one way to end the night. Hardee's old act The Greatest Show On Legs featuring Soan, Nick Revell and about a dozen other ad hoc members squeezed onto the stage for the famous naked balloon dance. As the balloons popped and wrinkly genitals were gradually revealed I could feel the venue rocking. It might have been a juggernaut going past on the way to Dover, but it might have been Hardee chuckling and saying "Fuck it"  in heaven.
Pages