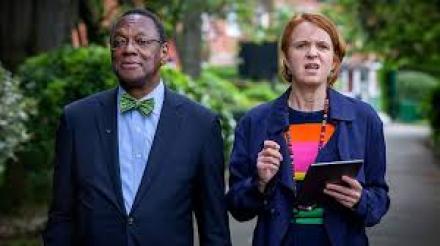 I think I know where Puppy Love is going wrong. They actually seem to have played down the presence of pooches in an effort to avoid the humans being upstaged. Yet what's the point in creating a sitcom about dog lovers and not featuring lovely dogs? Puppy Love is good, but it could have been so much better.
This week they slightly made up for it with a scene-stealing cuddly mop-headed shaggy dog Tuggy, who is owned by swanky, stylish charity trustee Jepherson Denomer – a name so silly he could have been a character in Toast of London. Denomer is played by real-life financial wizard Alvin Hall, and there are lots of gags about him checking the books and doing mini-makeovers – I don't know whether this was intended as an in-joke or a way of reminding us that Hall is still doing financial work, despite making his acting debut here, but it did raise a smile.
You can see a bit of a plot developing when Nana V succumbs to a dose of rampant hypochondria, which may or may not be an excuse to ask various people to squeeze her breasts. As ever, she found a man this week to lust after – slapping on her lippy whenever the young male vet walks past when she takes her dog in for a check-up. Just before Naomi inevitably walks into the surgery too.
I don't know quite why it bothers me so much, but this series seems to have a particularly closed-in comic universe. Naomi (Vicki Pepperdine) and Nana V (Joanna Scanlan) are constantly running into each other, despite inhabiting very different worlds. Fate has a habit of throwing them together even beyond the fact that their mismatched teenage charges have fallen in love with each other.
Plenty of sitcoms are based around a small cast. Maybe it's the fact that this is filmed on location around the Wirral and not in a studio that makes it so odd that the only people we seem to see are the main protagonists and the occasional guest star. Again, I don't know quite why, but it bugs me that we see people briefly for one episode then they never return. I doubt if we will be seeing Jepherson Denomer again. Unless it is in the next series of Toast of London.
Watch Puppy Love on iPlayer here.