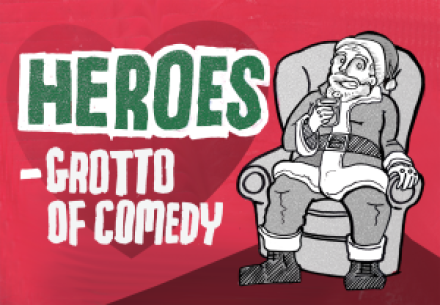 I've been slightly intrigued and slightly obsessed with Bob Slayer for the last few years. Slayer came to comedy via tour managing rock bands and he has, in his eccentric way, shaken things up a bit. His Heroes venues in Edinburgh threw a spanner in the festival works, straddling the Free Fringe and the paying Fringe by letting people in for nothing but also selling tickets for a fiver to mugs who wanted guaranteed seats. The booking policy seemed to work – he put on Adrienne Truscott, who picked up the Foster's Panel Prize in 2013. He also put on a lot of rubbish too, but whenever I walked past his venues everyone inside seemed to be having a good time. Even when Slayer himself was onstage.
And from tonight until December 18 he has a venue in London, having taken over what I'm assured is a glamorous space in Throgmorton Street in the heart of the city. It's a bit off comedy's beaten track but then so are a lot of the acts. The Weirdos Collective, for instance, led, if that's the right word, by Adam Larter, are putting on a panto there from December 11 - 13 in aid of Great Ormond Street Hospital. 
The rest of the run is pretty intriguing too. Video games maestro John Robertson is opening proceedings tonight with a special edition of his interactive show The Dark Room. And he is used to unusual venues – he did it in my lounge earlier this year. Tomorrow night Michael Gove's favourite rapper Mr B is hosting his Chap Hop Christmas Ball. On Friday Arthur Smith will be charing his Pissed Up Chat Show – Smith doesn't drink these days, but his guests Miss Behave and Wilfredo will no doubt make up for his abstinence. Monday December 8 should be an interesting one too. Scott Capurro is hosting a special edition of his comedy chat show with David Mills and one of his guests is none other than Jim Davidson. 
The biggest gig though is the Laugh Out Loud Benefit for Shelter on December 15 featuring Stewart Lee, The League Against Tedium, Josie Long, Pappy's, Sara Pascoe and host Nish Kumar. If you've read this far you are clearly obsessed with comedy and this line-up won't need the hard sell. 
It will be interesting to see how well these shows do. As I said they are off the usual comedy map in every sense. Slayer has not banned a local audience, but he doesn't want city office parties to come. "We are quite literally reclaiming Christmas comedy from under corporate noses," he writes on his website. He has put a sign up saying No Evil Bankers. Is there any other kind?
Tickets and further details for all shows here.